Michael Steele On GOP Filibuster: 'At Least Pretend You Give A Damn About What Happened'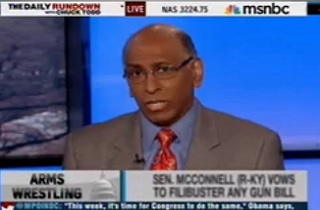 Senate Minority Leader Mitch McConnell (R-KY) is the most recent of 14 Republican Senators to promise a filibuster against the package of gun regulations, including universal background checks, that the Senate is set to consider this week. That filibuster effort has been condemned by everyone from President Obama to his 2008 presidential rival, Sen. John McCcain, but former RNC Chairman Michael Steele may have launched the most bitter friendly fire yet. On Chuck Todd's The Daily Rundown, Chairman Steele seemed to suggest that these Republicans are monsters, who don't even care what happened in Newtown, when he urged those GOP Senators to "At least pretend that you give a damn about what happened."
Senator McCain has expressed bemusement at the filibuster threat, while the White House has framed it as cowardice, but even the most strident critics of the 14 GOP Senators have not suggested that they're simply heartless bastards, numb to the suffering and loss that Americans feel in the wake of the Newtown mass shooting. In a Daily Rundown discussion of the politics behind that threatened filibuster, however, that seems to be what Chairman Steele suggested.
Host Chuck Todd has called the threat a "headscratcher," because "Last I checked, the Senate Republicans have a pocket veto on any legislation that they don't like. It's called the Republican-controlled House of Representatives."
Correspondent Luke Russert told Chuck that "From folks I've talked to on the Hill, especially on the House GOP side, it is a very long reach for them to accept any type of gun control."
It's a little unclear of this was Russert's analysis, or the buzz he's been hearing on the Hill, but he then added that "Boehner can kill it very easily by just putting it to the side. Democrats will be upset. They'll be yelling for it for a few weeks, and can count on sort of running out the clock. Then, if immigration comes to the forefront, we won't even remember gun control in the House GOP."
That does sound a lot like the conventional Beltway wisdom that's been steaming in the middle of the road since this debate began, that the energy around gun control is evaporating faster than Marco Rubio's saliva, but this week's push reinforces the folly of that notion. The Newtown families aren't going away, and neither are the 90% of Americans who support background checks.
Chairman Steele torpedoed Russert's theory that immigration would blot out the Newtown tragedy, and blasted the Republicans' filibuster threat. "Even with the idea immigration is going to somehow eclipse the gun debate, it is just a boneheaded position to take," he dais. "I don't understand the idea of positioning the party, positioning the leadership against an issue that is a 90% issue with voters out there. At least pretend that you're interested in it. At least pretend that you give a damn about what happened, and that you're willing to make a step forward to resolve the concern that people have in the country about guns."
"Regardless of where you are on the NRA and all of that, that's not the point," he continued, "this is some of the craziest posturing I've ever seen. When the country is hemorrhaging their concern on this issue, for the party to sit back and basically say 'we're not even listening to what you have to say,' it's crazy."
Chairman Steele's assessment of the GOP filibuster gang may be a good deal more harsh than any I've heard, but that doesn't mean it's not true. Republicans have zero reason to block a vote on background checks, There is no political price to pay for allowing a vote, or even for allowing it to pass, because 90% of the people support it, and even the NRA doesn't mind it that much. There's also little political cost to voting against background checks, as Republicans and most independents will give them the cover of a "principled" stand. But blocking any vote at all risks great political cost, as a sense of fair play and obligation to the Newtown families could turn independents (and maybe even some Republicans) against these guys. So why do it? Maybe they are monsters. Or maybe this is not about blocking background checks at all.
Here's the clip, from The Daily Rundown:
Follow Tommy Christopher (@TommyXtopher) on Twitter.
Have a tip we should know? tips@mediaite.com