Michael Steele: The GOP Has No Message, 'It Is Talking Through Its Rear End'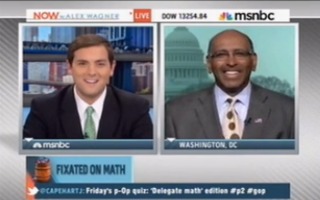 Former RNC chairman Michael Steele paid a lil' visit to an Alex Wagnerless edition of Now with Alex Wagner to chat with interim host Luke Russert about the human centipede-esque monster he helped create — the seemingly never-ending primary race.
"Chairman Steele," said Russert, "you invented this… How many nice voicemails have you received in the last few months because of this?"
"Aw, they don't talk to me, man," Steele joked (?), much to the delight of the studio. "Look, once they kicked me out, they were done with me. So, you know, it's all good."
RELATED: A Brokered GOP Convention: Michael Steele's Last Laugh
"Once you signed up with MSNBC, they really wrote you off," laughed former Pennsylvania governor Ed Rendell. Steele couldn't help but agree: "Yeah, absolutely!"
On a more serious note, however, Steele thinks the process is a good and necessary one because it allows more states to have their say. That said…
"I can't help how you run your campaign! The bottom line is you have to have the organization, the structure and be able to understand the math," he said. "This was no secret. This was put out long before this point in time, so the campaigns could prepare for this race. And it gives those who didn't necessarily have the money the chance to compete and those who did, they had to make better use of it. So I can't help how you run it. This is the process; just run your race!"
Steele was then shown a clip of New Jersey governor Chris Christie opining that a longer primary is "the dumbest idea anybody ever had" because it results in the candidates "beat[ing] each other up."
"I appreciate the Governor's perspective," said Steele, adding that "we know it, we get the joke: you support Mitt Romney, Mitt Romney isn't doing very well."
"The message is more important than the process" anyway, said Steele, and right now the candidates aren't giving the people a coherent message.
Have a listen, via MSNBC:
Have a tip we should know? tips@mediaite.com