Michael Steele On Voyeur Club Scandal: Has MSNBC Ever Been Upset At An Employee?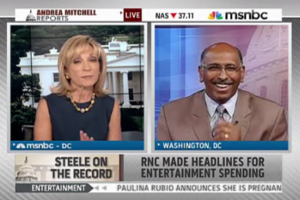 RNC Chairman Michael Steele visited Andrea Mitchell on MSNBC earlier today, a month removed from the Voyeur club scandal and four months removed from the RNC's Hawaii planning meeting. Condemning the RNC for "having luaus" while "we were digging our way out of the snow banks" and getting mostly laughter as a response, Mitchell brought up Voyeur, to which Steele responded: "You mean to tell me not one employee of your organization has done something that the management has not been proud of?" Too soon?
The interview remained mostly civil until Mitchell asked Steele about the recent criticism on the RNC for its expenses, specifically asking him in regards to a mid-winter event the RNC hosted in Hawaii, "What were you thinking?"
Steele laughed off the question, but Mitchell insisted, in a fairly opinionated manner, that the Hawaii meeting was "lavish" and raised eyebrows with both donors and the media. Steele shielded himself from that criticism by citing McCain-Feingold restrictions on the RNC, and telling Mitchell to "stop with the Democrat talking points, for God's sakes," possibly prompting Mitchell to retaliate by bringing up the embarrassing four-figure expenses on the RNC's tab at a lesbian bondage-themed nightclub.
Steele returned fire by asking if she thought her organization was exempt from employee behavior issues. A fair rhetorical question, except for one thing: Mitchell's organization is MSNBC, which has had two high-profile employee discipline issues in the last month– David Shuster's exit after filming a pilot for CNN and a more minor problem with Donny Deutsch mentioning colleague Keith Olbermann in an "Anger in America" segment.
Check it out:

Have a tip we should know? tips@mediaite.com