Michael Steele On Whether Obama's Immigration Decision Reflects POTUS' Beliefs: 'There's No Belief'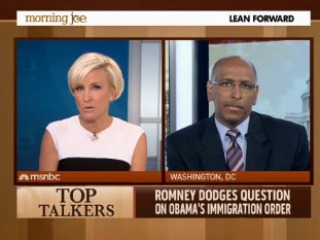 Former RNC chair Michael Steele stopped by Morning Joe Monday morning, where he discussed Barack Obama's recent change in immigration policy and GOP candidate Mitt Romney's subsequent reaction.
Host Willie Geist asked Steele why the President would feel the need to implement such a policy change at this point in the election given that he's ahead of Romney in the polls among Latino voters.
"Is this a political move by the President," Geist asked, "or is he doing is because of what he believes?"
RELATED: Bill Kristol On Obama's Immigration Policy: 'It's The Right Thing To Do Actually'
Steele laughed. "Belief? What belief?" he asked. "There's no belief. Look, you believe in the early days of your administration if you're that — and the President talked about immigration back in '09 and 2010. So, that was the opportunity then to really set the course."
"So, the reality is," he continued, "this is pure, blatant politics with churning out that vote." Let's not make this seem like some sort of "profile in courage," he added, instead of an attempt to sway younger voters.
He then criticized the policy for not addressing any underlying issues involved in the immigration debate, such as security interests on the border, the economic impact of such a decision, or "what you're going to do with these folks." This is ultimately, he said, "a band-aid on a very big wound."
Panelist Steve Rattner noted the precarious position this puts Romney in where Latino voters are concerned.
"Bam! And that's politics," laughed Steele. He later characterized this as a calculated, "gotcha moment" for Romney on the part of the Obama administration.
Watch, courtesy of MSNBC:

Have a tip we should know? tips@mediaite.com