Steele Tells Maddow: 'People Understood Me Very Well; They Just Didn't Like It'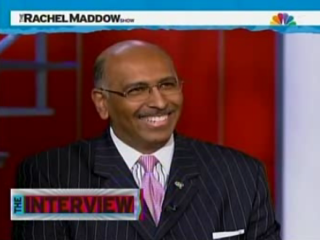 Michael Steele's departure from the chairmanship of the RNC may leave him with significantly less power among Republicans, but for the media, it means Steele is now free to speak unencumbered by the burden of his old responsibility. Tonight, this meant Steele was free to speak unencumbered to Rachel Maddow about his struggles within the party, what he thinks of the job he did, and all the other TV shows he would have done had he been allowed to as RNC chair.
"I have been dying to talk to you for so long," an ecstatic Maddow told Steele, after summarizing the way she perceived his tenure. For the most part, he agreed with her assessment, pointing out that "literally within 30 days of me being on the job there were calls for my resignation," much of it having to do with the fact that he was a "grassroots guy" and his style of fundraising did not go well with the establishment. He shared an anecdote of spending time campaigning in Harlem, which turned many members of the committee of to him, and later noted that he saw his administration as a successful one despite the RNC's current debt. He also noted that he delegated much of the responsibility in state campaigns to the state committees, which upset national officials who "wanted to get on the plane, wanted to see their friends."
Maddow's strongest line of attack, by far, was on financial terms, where she noted the millions in debt would cripple the RNC through to 2012, but Steele continued to argue that the debt was balanced out by the electoral wins, and that, despite it all, his fundraising was "the most raised by a party out of power in a long time." If that was true, Maddow responded, "Why did you lose?" Steele noted the politics, and did not argue that he was misunderstood. In fact, he noted, "I think people understood me very well; they just didn't like it."
Then talk turned to why Steele wouldn't go on Maddow's show while he was chairman, which Steele argued that, despite him being a fan– "I watch the show regularly!"– the party wouldn't have it, despite him being chair. He also noted, somewhat surprisingly, that he had been hankering to do Real Time with Bill Maher, as well.
The interview continued throughout the hour– below is the first segment, via MSNBC, where they discuss the politics of being chair, why Steele believes he lost, and what shows he would have wanted to visit in the past two years:
Part 1:


Part 2:

Have a tip we should know? [email protected]