Michael Steele Responds To Reince Priebus' Slam That He Left GOP Bankrupt: 'I Won And He Didn't'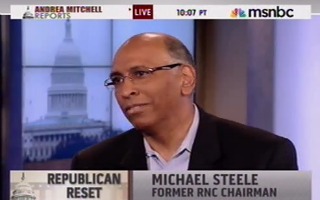 Michael Steele, former Republican National Committee chairman, is hitting back at Reince Priebus, the current RNC chairman, on Monday after he took a jab at Steele for leaving him with a broken and bankrupt Republican Party in 2011. Steele fired back at Priebus by noting that he won the elections he was charged with winning whereas Priebus failed in that task.

RELATED: GOP's Reince Priebus: We Have Done A 'Lousy Job Of Branding And Marketing Who We Are'
In a speech to the National Press Club, Priebus took a swipe at Steele saying that "both credit cards were suspended" when he took over as the party's chairman in 2011. When asked if Steele "ruined the party" as chairman, Priebus replied, "I think the numbers speak for themselves."
"I won and he didn't," Steele said curtly when asked by MSNBC host Andrea Mitchell to respond to Priebus. Steele said that he presided over the victories of GOP candidates like New Jersey Gov. Chris Christie and Virginia Gov. Bob McDonnell in 2009. Furthermore, he presided over the party during its most successful midterm election cycle in recent history.
"So, Reince is just being silly," Steele added. "He wasn't concerned about debt and complaining about debt when I was writing checks to Wisconsin when he was chairman and wanted to win the state legislature, which they did, win the governorship, which they did."
Steele went on to take his own shots at Priebus as the party's messenger. He said that the GOP today has "no message," a weak brand, and has dubbed their report on the 2012 elections an "autopsy."
"This isn't an autopsy. This is an examination of what you did wrong, where your leadership failed, and how you get back on winning again after we had unprecedented wins in 2009 and 2010," Steele continued. "We brought the tea party to the party. They've excluded the tea party."
Steele agreed with some of the reforms suggested in the RNC report, but he called them "process" reforms.
Watch the segment below via MSNBC:
> >Follow Noah Rothman (@NoahCRothman) on Twitter
Have a tip we should know? [email protected]