Michael Steele To Matthews: You're A 'Sycophant' For Defending Obama Always Blaming Bush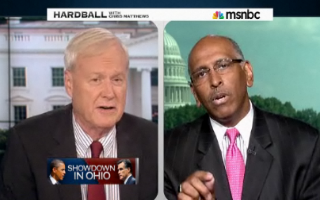 Former Republican National Committee Chairman Michael Steele appeared visibly exasperated in a debate with Chris Matthews over the legitimacy of President Barack Obama and other Democrats blaming the previous administration for the state of the economy. Steele accused Matthews of being a "sycophant" for his position. Matthews retorted that it was a "bad day, actually," for Republicans so it was excusable for Steele to become "over excited."

RELATED: After Epic Battle, Michael Steele Refers To Cory Booker As 'Boy' — Al Sharpton Pauses, 'Boy?'
Former Pennsylvania Gov. Ed Rendell said that Obama did a good job in his speech – framing the debate and highlighting the economic recovery as well as talking about his plan for the future.
When Matthews asked Steele for his impressions of Obama's speech, the conversation became heated.
"I guess the question is, Michael, whether he can win with the argument, 'I started in a hole' – a real mess I was given here in '88 – 2008 – this guy wants to basically rerun the same policies," said Matthews. "Give me the profound differences between the presidential candidate, Mitt Romney, and former President George W. Bush when it comes to economic policy?"
"That is an irrelevant comparison," answered Steele.
"Well, no, but it's my question for you," Matthews responded.
Steele attempted to respond, "I'm not answering that question simply because.."
"I know why, and everybody watching knows why you won't answer it," said Matthews.
Steele said that Matthews was a "sycophant" for Obama and was doing precisely what the White House wanted by focusing on the Bush presidency rather than Obama's.
"What do you call a guy that refuses to answer a question," asked a smiling Matthews.
Matthews repeated his question, which Steele answered with another question: "You give me the difference between Mitt Romney and Barack Obama. That's what this election is about," said Steele. "This is not about George Bush. Why are we talking about George Bush?"
Steele went on to say that at least two thirds of Obama's campaign speech was defensive and that, rather than the portions that were forward-looking, is what most viewers would take away from the speech.
"Let me try it one more time," Matthews persisted. "If you bought a house and you discovered it had termites, and you found out the electricity didn't work, and every time you plugged in the toaster you got a short – and, by the way, there was a fire because of the bad electrical system. And everything was wrong with that house. Wouldn't' you blame the guy you bought the house from?"
Steele hesitated. "…Well, yeah," Steele said finally.
"Well that's what we're doing here," Matthews exclaimed.
"There's a new owner in the house," said Steele. "His name is Barack Obama. I'm sorry."
Matthews clarified that the reason he brings up Bush is because Romney insists he is a fresh start, where as many Obama supporters believe that he is a "retread."
Matthews concluded the segment by saying it was a "bad day, actually, for your crowd, Michael Steele, so I understand why you got a little over excited today."
Watch the tense exchange below via MSNBC:
Follow Noah Rothman on Twitter
Have a tip we should know? tips@mediaite.com