Michael Ware Tries To Contain Cornel West's Rage At Former Cheney Aide On Bill Maher Panel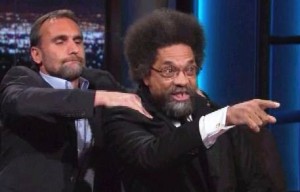 Last night's panel on Real Time with Bill Maher was rowdy, to say the least. After an entire segment where the host tried to contain his mostly liberal panel's rage against former Dick Cheney aide Ron Christie over Iraq, it was time to talk about Occupy Wall Street, a cause for which panelist Cornel West had been arrested. Needless to say, he had an opinion or two on the matter.
The conversation on Occupy Wall Street began as Maher read an excerpt from a column Christie wrote attacking the protesters, one in which Maher thought Christie came off as "resentful that this is a 40-year-old party you were having you were never invited to." He also attacked Christie for claiming that the President had spent too much time campaigning instead of being in the White House. Christie replied that if the President "wants the dignity of his office," he has to "be in his office." This began the first of many waves of vocal discontent from West, Michael Ware, and Michelle Goldberg, the first of which began to shout that the President "was dealing with right-wing Republican entrenchment and obstructionism."
RELATED: Bill Maher Stands Up For Acid: Kids Are On Drugs, 'The Problem Is They're On The Wrong Drugs'
Maher then went on to the 2012 campaign and noted that Republicans often call Newt Gingrich one of their "big thinkers," which sent West and Ware into a laughing fit. To prove that Gingrich was not that much of an "ideas" guy, Maher pointed out similarities between what Gingrich said and what Charlie Sheen began to say during his implosion earlier in the year. Gingrich, Maher concluded, "uses the words 'profound' and 'fundamental' in every sentence, and people say 'wow, he's such a big thinker!'"
"You want big ideas? Go to Occupy Wall Street," West interjected. Christie, naturally, seemed to disagree with this claim, arguing that the movement was creating "an American where we pit Americans against each other by class," something Goldberg vehemently argued already exists. "When Herman Cain says, 'if you don't have a job, that's your fault,' that's class warfare." When Christie called what Occupy Wall Street was doing "demonizing [Americans] because of their success," another wave of uproar erupted, in which West argued the goal was "corporate accountability," not demonization.
RELATED: Real Time Panel Tears Into Former Cheney Aide Over Support For Iraq War
That last bit sounded like a "beautiful soundbite" to Christie, and his opinion incensed West so much as to apparently need several physical restraints from Ware. "People don't go to jail for soundbites!" West started shouting, as Ware in turn gave him back massages and hugs (?). Maher brought the panel to earth, making a warm point about America being the sort of place where these shoutfests could happen without anyone getting arrested or hurt, and a place where "the two black men on the panel are the ones who hate Obama," a line that brought peace, finally, between West and Christie.
The segment via HBO below:
Have a tip we should know? tips@mediaite.com