Michaele Salahi Fired From Celebrity Rehab Because She Doesn't Actually Need Rehab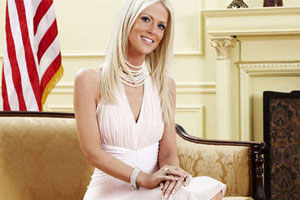 Oh, those Salahis. Always showing up where they don't belong. Of course, going to a party at the White House when you don't have an invitation is one thing. Who wouldn't want to go to a White House party? However, going on a reality show for people suffering from drug addiction when you're not actually addicted to anything? Yeah, that's kind of taking it a step too far.
Yep, Michaele Salahi has been kicked out of Celebrity Rehab after show host Dr. Drew Pinski decided she was just too darn healthy. From E! News:
"'The treatment program that Celebrity Rehab documents is intended for individuals with serious substance abuse and addiction issues,' VH1 said in a statement to E! News. 'Prior to the taping of the current season, producers were advised that Michaele Salahi met the criteria to be treated in this setting. However, professional assessments spanning from that time to the present, found that she did not meet such criteria.

'As a result, she is no longer participating in the program.'"
Now, in all fairness to Salahi, it would appear she never claimed to be an addict (someone from the show contact me if I'm wrong).
Her husband Tareq Salahi explained to Radar that she was actually there to deal with her stress following the White House scandal as well as Multiple Sclerosis.
"Tareq adds that Michaele takes her condition seriously and that it was the show that wanted her to pretend to be something she wasn't. Tareq says he now has plans of exposing the makings of reality shows on national television.

'My wife takes her health situation very seriously, she has a real diagnosis of Multiple Sclerosis. You know, we can show you a bunch of emails about what they wanted her to pretend to be, therefore, but that's going to come out later on with one of the major networks.'"
Ah, good. They're going to be doing huge interviews about this.
You know, maybe Dr. Drew made her leave because he discovered she actually was addicted but that she was addicted to meaningless fame. If so, he probably kicked her out so that his camera men wouldn't be her dealers.
Have a tip we should know? tips@mediaite.com