Michele Bachmann Asked About Husband's Alleged 'Ex-Gay' Clinic: 'Very Proud Of Our Business'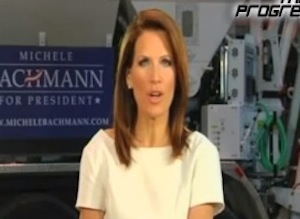 Last night ABC News aired a segment focused on the Christian counseling clinic owned by Republican presidential candidate Michele Bachmann and her husband, Marcus. The segment featured an undercover video as well as an interview with a former patient the claims to have been advised that prayer could help free him of homosexual urges and that he could become "re-oriented." Yesterday afternoon, a local news anchor pressed Bachmann on these allegations, to which she tried to dodge a direct answer.
At issue in this story is the rather controversial concept of whether or not homosexuality is something that should be "cured." Some have already noticed that Mr. Bachmann does not necessarily fill the iconic image of "first dude" thought the notion of a presidential spouse that is male is certainly new territory when it comes to American iconography.
Bachmann was pressed on issue by the local Iowan affiliate anchor and demurred on discussing the reparative therapy broached by the ABC News report. Transcript of the portion of the interview (provided by ThinkProgress):
HOST: What is your opinion on reparative therapy and is it something that's conducted in that center?

BACHMANN: Well, I'm running for the Presidency of the United States and I'm here to talk about job creation and that we do have a business that deals with job creation. I'm very proud of the business that we created and I'm here today in Indianola, Iowa….

HOST: But of course the issue today is about this reparative therapy and about what this hidden camera caught and their opinions are going to be aired on tonight's news. And you don't want to comment on that and give your side?

BACHMANN: Well, I'm here to talk about the Presidency of the United States. As I said again, we're very proud of our business and we're proud of all job creators in the United States. That's what people really care about.
As ThinkProgress points out, Mr. Bachmann has not only been "under scrutiny" over his clinic in the last few weeks, but he has also revealed to have received $137,000 in federal Medicaid funds over the past five years.

(H/T ThinkProgress)
Have a tip we should know? tips@mediaite.com
Colby Hall - Founding Editor