Rep. Bachmann Clarifies Gay Marriage Opposition: I'm Not Running To Be Anyone's Judge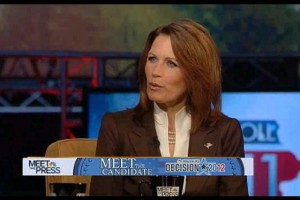 On every single one of her Sunday morning show appearances, Congresswoman Michele Bachmann was confronted by her positions on the economy and her opposition to the Obama administration's policies, but David Gregory may have been the only host to bring up Bachmann's past statements regarding homosexuality and gay marriage.
Gregory focused on a speech Bachmann gave in 2004, where she suggested living a gay lifestyle would lead to "the personal enslavement of individuals," and asked the candidate if she still believed those words seven years later. Bachmann explained that she is not running "to be anyone's judge," but Gregory argued that her previous comment indicates she has already passed judgement on them. The congresswoman tried her best to make a delicate balance between her social conservatism and her compassionate tendencies.
"My view on marriage is that I believe marriage is between a man and a woman. That's what I stand for. But I ascribe honor and dignity to every person, no matter what their background. They have honor and they have dignity."
Gregory wondered if people watching would ascribe honor and dignity to Bachmann for the words she used to describe gay people, but she continued to insist several times that "I'm not judging them," which is basically the political equivalent of saying, "I'm not a hater." However, she did indicate a willingness to appoint an openly gay judge as long as they upheld the Constitution, demonstrated a level of competence, and shared her philosophical views. Gregory tried once again to get a definitive "yes" or "no" from Bachmann on if she would definitely consider appointing a gay judge, but she just answered, "I have my criteria."
On the issue of whether gay couples who adopt can be considered a family, Bachmann did not solicit a straight answer, clarifying once again her belief in marriage as being between one man and one woman. She dismissed such questions as unimportant, but Gregory pointed out that in her 2004 speech she referred to gay marriage as a defining issue, so this will definitely not be the last time Bachmann will have to answer these questions.
Watch the video here, courtesy of NBC:
Have a tip we should know? tips@mediaite.com
Josh Feldman - Senior Editor