Michele Bachmann Dismisses Possible Ron Paul Win: He 'Would Be Dangerous As President'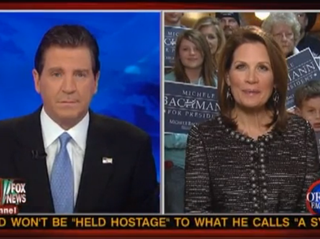 We may have seen the first glimmers of the "Santorum Surge" as the non-stop Rep. Ron Paul coverage takes it toll on the candidate, but as Rep. Paul continues to be the frontrunner, the onslaught of "is Ron Paul electable?" questions trudges on. This round of questioning went to Rep. Michele Bachmann, once the frontrunner in Iowa herself, on tonight's O'Reilly Factor, where Eric Bolling asked her whether she could vote for Rep. Paul. She mostly refused to entertain the question.
RELATED: Et Tu, Mitt? Romney Tells Wolf Blitzer He Would Vote For Ron Paul Over Obama
Bolling asked Rep. Bachmann whether she can vote for anyone who becomes the Republican nominee, a question that she brushed aside by responding "you don't have faith in what I'm saying" and arguing that she will be "America's iron lady" and the fact that "Barack Obama knows me" made her a more formidable candidate.
Bolling gave it another shot, noting that Newt Gingrich had said he wouldn't vote for Rep. Paul asking whether she would vote for Rep. Paul. "It's not going to be Ron Paul who is the nominee. He won't be the nominee," she insisted flatly, adding that he would be "dangerous because of his foreign policy," where she brought the "right perspective on matters."
Rep. Bachmann's non-answer isn't a point in the "will support Obama instead" column, but it certainly highlights the rift between Rep. Paul supporters and the wing of the right that supports Rep. Bachmann.
The segment via Fox News below:

Have a tip we should know? tips@mediaite.com