Michele Bachmann Gives Feisty First Interview Since Announcing Retirement: 'I'm Not Going Silent'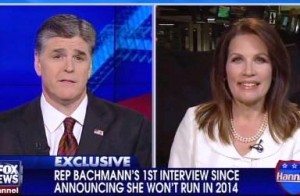 Minnesota Congresswoman Michele Bachmann appeared on Sean Hannity's show Thursday night for her first interview since announcing her retirement from her House seat last week.
Bachmann reiterated that she felt eight years—the duration of two presidential terms—was enough for a legislator.
"This is a body that needs to have continual turnover," Bachmann said. "I feel like I've done a lot in the eight years that I've been there. I was a very strong voice taking on my own party. I pushed back on the bailout. I was the champion of repealing Obamacare, and also dealing with this issue of the IRS—I have been involved in that as a former IRS attorney. On issue after issue dealing with the rise of Islamic jihad, I have been there."
"I'm not retiring," Bechmann said. "I'm not going silent. I'm not the quitting my public involvement. In fact, I may run for another public office. But for right now I think I'm going to find a different perch in order to be able to weigh in on the matters. Sometimes you be more effective on the outside than on the inside."
Bachmann credited her continual role in the spotlight to her threatening presence to the Nancy Pelosis of the world.
"Nothing was more feared by the radical left than the rise of normal Americans asserting their Constitutional rights," Bachmann said. "They certainly don't want to see conservative women be able to articulate our views to the American people. That's what they want to do: they want to silence the African Americans who are conservative, Latinas who are conservative, conservative women, they certainly want to silence our voice."
Hannity finished by asking if Bachmann would consider a second presidential run in 2016. Bachmann did not rule it out, but said it was not her "number one item."
Watch the whole segment here:
—
>> Follow Evan McMurry (@evanmcmurry) on Twitter
Have a tip we should know? tips@mediaite.com