Michele Bachmann: 'I Just Want To Make It Absolutely Clear: I Abhor Slavery.'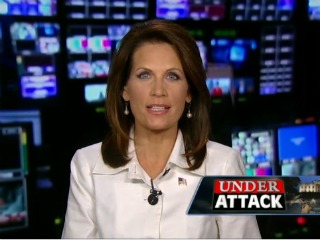 Tuesday evening, Fox News' Sean Hannity spoke with presidential hopeful Michele Bachmann about the "mainstream media's" attacks on her, particularly in light of the controversial marriage pledge the congresswoman recently signed.
Bachmann, for her part, says she's choosing not to focus on negativity but, rather, on the economy and job creation. Hannity then offered Bachmann the opportunity to address recent comments she'd made that had some in the media enraged. Bachmann instead spoke about unemployment:
Regarding unemployment with African American youth, that's about a forty percent level of unemployment with African American youth. When you look at Hispanic youth, that's close to seventeen percent unemployment. These are unacceptably high numbers, and of course the stunningly bad job report that came out last Friday showed that it's an uptick in unemployment at 9.2 percent. And of course the U.S. Chamber of Commerce came out yesterday and small business executives said that, sixty-four percent of them said they will not be hiring at all next year. Twelve percent are planning to cut. This is really bad news.
Hannity then pressed Bachmann to speak, specifically, about a portion of the aforementioned pledge that compared the plight of black children born into slavery to those living now under the Obama administration:
That statement was not on the document that I signed. Apparently the group had a statement about that in another part that they've now since removed and gotten rid of and disavowed. I just want to make it absolutely clear: I abhor slavery. Slavery iwas a terrible part of our nation's history. It's good that we no longer have slavery and under no circumstances would any child be better off growing up under slavery. But that isn't what I signed; that isn't what I believe.

What I signed was a statement that affirms marriage is an important part of our nation, and I agree with that. I think that marriage is very important, it's the fundamental unit of our government and I think it's important that we do uphold marriage and also the family because marriage is a very important institution.
Watch the entire segment below, courtesy of Fox News:
Have a tip we should know? tips@mediaite.com