Michele Bachmann Makes Corny Jokes, Gets Booed On Late Night With Jimmy Fallon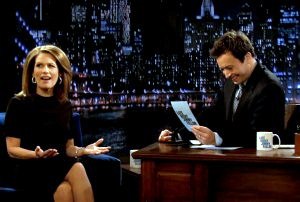 Michele Bachmann appeared on Late Night With Jimmy Fallon Monday night, and hit on everything from her Thanksgiving traditions to how to properly do a Minnesota accent. She also took a dig at President Obama that elicited some boos from the audience, and proved herself to be kind of stale when cracking jokes about her fellow GOP candidates.
Fallon had Bachmann play "One Word" with him — a game that's basically just word association. Fallon read off a list of names, and Bachmann was told to say the first word that came to mind. Fallon's first word? "Romney."
"Hair!" Bachmann quickly responded. But she then pleaded with Fallon to change her answer. "Vice-president," she said. And the world groaned. For a split second, Bachmann had actually made a nice little joke, but then quickly thought better of it and brought stale, rehearsed political humor into her appearance. The rest of her "One Word" performance:
Gingrich – "Neeewwwt"
Cain – "Nine"
Palin – "Gorgeous"
Obama – "Finished"
Perry – "That's not one word, I've got to do three. Governor, Texas… can't remember the third."
Bachmann – "President"
When she gave the Obama response, some in the crowd began to boo her, while others cheered, to which she replied, with a smile on her face, "Be nice!"
RELATED: Jon Huntsman Shows Up On SNL To Talk About How Much He Loves New Hampshire
The sad part about Bachmann's appearance was that she actually started out really strong in the first segment, talking about her Thanksgiving traditions, and why she considers it her favorite holiday. "It's kind of a gentle holiday," she explained. "You don't get a lot of preparation for it other than the food. And I make all the food." Instead of a political line-spewing robot, Bachmann seemed human, a side people don't really get to see in the debates or interviews, where she seems like she's stressing to deliver prepared zingers.
Fallon asked her about her cranberry sauce preferences, for instance — can or homemade. "Are you kidding?" She asked. "The real thing! You cook them down, the sugar, the whole deal." Bachmann seemed just like a normal mom who likes cooking and plays Turkey Bingo with her 28 kids. But, moments later, when she changed her Romney answer from "hair" to the safer and much cornier "vice-president," she took the interview off the fun tracks and into political rhetoric that's been done before.
Enjoy video of Bachmann's appearance on Late Night below, courtesy of NBC, with her "One Word" answers first:
…and her Thanksgiving traditions second:
(H/T: Mike Opelka/The Blaze)
Have a tip we should know? tips@mediaite.com