Michele Bachmann On Pawlenty: The Governor Lodged 'Six Or Seven Attacks Against Me' And So I Responded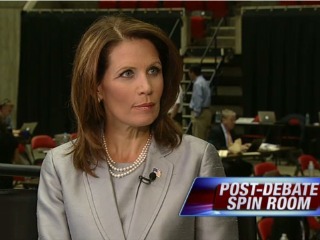 Following last night's heated Republican debate, GOP presidential hopeful Michele Bachmann chatted with Fox News' Sean Hannity, taking some time to directly address campaign rival Tim Pawlenty's claim that she reminds him of President Barack Obama (if you're just joining us after a lengthy sojourn on another planet: this was neither meant nor taken as a compliment), as well as his attacks on her record of accomplishment — something Bachmann did not at all appreciate, particularly given all her, as she called them, "dust ups" in Washington.
Here's Bachmann's response:
Well, my record of accomplishment has been based on being a champion for things that people want us to speak out on. They don't want "Washington as usual." And I've been at the tip of the spear, whether it was on not putting Obamacare into place or repealing it or, now for the last two months, I've been the lone voice in the wilderness of Washington, saying "we can't raise the debt ceiling and, by the way, we don't have to default to do it either" and offering a plan. But also on the issue of cap and trade, Obamacare, big government. I mean, if there's been a fight, I've been in the middle of it. And that's what people are looking for, a champion.
A good response, on point, with various examples to refute Pawlenty's attack. But Hannity, God bless him, wanted Bachmann to specifically address why Pawlenty would have "gone after her."
Well, the Governor had lodged maybe six or seven attacks against me and we felt that we needed to make a response. And our response was "I'm extremely proud of my record and what I've done, plus the fact that Governor Pawlenty, when he was Governor, he did implement cap and trade in Minnesota and the business are still suffering because of it and he was behind the individual mandate in health care, which is unconstitutional.
Have a look at their discussion, courtesy of Fox News:
Have a tip we should know? tips@mediaite.com