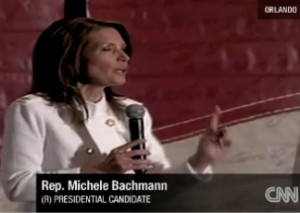 In just her latest display of stunning choot-spah, GOP hopeful Rep. Michele Bachmann told a crowd of supporters in Florida, Thursday, that Republicans "don't have to sit on the back of the bus."
Bachmann's remark is part of a long string of clanging references to the struggle for civil rights, and a comical reminder of just how much the Minnesota congresswoman will be missed by the political media when the GOP race narrows.

Coincidentally, it was almost a year ago that conservatives tried to cast remarks by President Obama, about Republicans "rid(ing) in the back" of the metaphoric car, as a callous, exploitative reference to Rosa Parks. It will be interesting to see if conservatives who feigned outrage about a fake Rosa Parks reference, then, will now feel the same indignation over this:
"Of any election, this is the one where conservatives don't have to settle," Bachmann said at a rally in Orlando organized by the Faith and Freedom Coalition, the group founded by conservative activist Ralph Reed.

"President Obama's approval numbers are the lowest they've ever been, and I am here to tell you, they are going lower further," she said. "So we don't have to go to the side, we don't have to sit on the back of the bus in this election. We need to stand up and be counted and have a candidate who is truly a social conservative who will stand for our issues."
At least she didn't ask the crowd to join hands and sing "We Shall Overcome." This time.
Previously, Bachmann has rewritten our country's history on slavery,  simply ignored that history, and compared slavery with tax increases. Who knows, maybe this is a side-effect of some vaccine.
Bachmann was nearly shut out of last night's Republican debate, as the media has continued to focus on frontrunners Rick Perry and Mitt Romney. This is unfair to Bachmann, and deprives the rest of us of Bachmann's Gort-graceful racial dialog.
(h/t)
Have a tip we should know? tips@mediaite.com