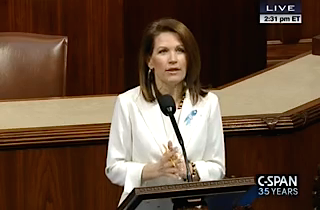 When you have to preface what you're about to say with the stipulation that "all Republican women are pro-women," you must think that the following argument might be seen as controversial. That's precisely what Rep. Michele Bachmann (R-MN) did when she rose to speak before a House vote on a National Women's History Museum to potentially be established on the National Mall in Washington, D.C.
After stating the she and her Republican colleges of both sexes were unequivocally "pro-women," Bachmann explained why she intended to vote against the measure. "A no vote on the current legislation, which I advocate for, very simply, is a vote to stand up for the pro-life movement, a vote to stand up for traditional marriage, and a vote to stand up for the traditional family," she said.
Bachmann argued that if the new museum is built, it will "enshrine the radical feminist movement that stands against the pro-life movement, the pro-family movement, and pro-traditional marriage movement." While she said she finds the idea of celebrating women "admirable," she think the museum is planning to do so in the wrong way.
RELATED: Fox Anchor Wonders When We're Getting a Men's History Museum
As Bachmann acknowledged in her speech, the museum currently honors her in its "Profiles in Motherhood" online exhibit. There, she is held up as an ideal foster mom for adopting 23 teen foster children into her home. Bachmann said she is "honored" to be included in the exhibit, but is "deeply concerned that any worthy exhibits are clearly the exception and not the rule."
Instead, she sees an "overwhelming bias" on the website towards women who embrace "liberal ideology, radical feminism" and "fails to paint the actual picture of the lives and actions of American women throughout our history." She accuses the museum of highlights an "abortion trailblazer" like Margaret Sanger while ignoring the views of the "pro-life" movement.
"As it's currently written, the legislation lacks the necessary safeguards to ensure the proposed museum will not become an ideological shrine to abortion that will eventually receive federal funding and a prominent spot on the National Mall," Bachmann said before urging her colleagues to vote against it. The bill itself calls for museum plans to be drawn up in a way that it can exist "in perpetuity without reliance on appropriations of Federal funds."
There is at least one prominent Republican woman who plans to vote yes: Rep. Marsha Blackburn (R-TN), who co-sponsored the bill. "It's just a process of education and saying let's sit down and get this done," Blackburn told CNN. "I think the reason for it is to celebrate what women have accomplished in this country whether in the fight for freedom or opening doors for other women."
Watch video below, via C-SPAN:
[Photo via screengrab]
— —
>> Follow Matt Wilstein (@TheMattWilstein) on Twitter
Have a tip we should know? tips@mediaite.com