Michele Bachmann Tops The Iowa Coffee Bean Caucus For Republicans, But Still Loses To Barack Obama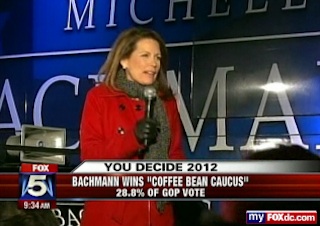 Are there any politics junkies out there? The type that are getting all jittery as they anxiously refresh Twitter and flip between cable news channels? The poor souls who keep looking at their watch, wondering how they could possibly wait a full day to hear those sweet caucus results? Well, then I have a quick hit for you; the results for the Iowa Coffee Bean Caucus. Consider this the methadone to tonight's black tar heroin.
Yes, the diner inside the Hamburg Inn No. 2 in Iowa City has released their eagerly awaited results. Every four years, the diner becomes a traditional stumping spot for candidates, way station for supporters, and commiseration hub for organizers. And the restauranteurs have done their part by hosting a regular Coffee Bean Caucus where diners can drop a coffee bean in for whichever candidate they like.
It's a good idea. Not only is it a fun tally, but I'm sure the doctors of these campaigners are also glad for every bit of coffee that isn't getting drunk at this point.
RELATED: Michele Bachmann and Soledad O'Brien Tussle Over What A 'Gotcha Question' Is
So, how did folks do?
From the Iowa City Press Citizen:
"For the Republicans, Michele Bachmann, despite the polls showing her behind the lead pack, was the Hamburg's top Republican bean-getter with 1,147, defeating Mitt Romney by nearly 300 votes.

Bachmann, Rick Perry and Rick Santorum made stops at the restaurant in recent months, though all the candidates were extended invitations, Panther said."
Bachmann got a full 29% of the beans counted from Republican voters. However, she wasn't the big winner overall. If you count all the beans, this year's winner was current President Barack Obama who ended up with more than 6,400 beans. Obama won in 2008 as well.
So, political junkies, was that enough to get you going for the rest of the day? I hope so. And, if not, you've only got a few more hours to wait!
Watch a news report on the Coffee Bean Caucus from My Fox DC below:
(h/t Drudge Report)
Have a tip we should know? tips@mediaite.com