Michele Bachmann Wants To 'Spank The President' And Steal His 'Magic Wand'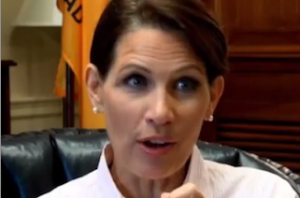 Rep. Michele Bachmann (R-MN) warned Monday that Republicans are in danger of losing control of the House of Representatives in 2014 if they let President Obama "wave his magic wand" and allow newly legal immigrants to vote. And as the congresswoman explained to conservative website WorldNetDaily, the only way to prevent this from happening is for Congress to give the president a "spanking" on immigration.
Bachmann has been leading a campaign against immigration reform, declaring last month that the GOP will never again be able to elect get a president in office if the "amnesty" bill passes. "It's my prediction that the House Republicans could put themselves in a position where they could actually lose the gavel in 2014," she said today. "Because I think the president, even by executive order, could again wave his magic wand before 2014. And he'd say, 'Now all of the new legal Americans are going to have voting rights.'"
If this were to happen, which pro-Gang of Eight types say is unlikely given the increasingly long path to citizenship outlined in the bill, Bachmann warned that once Democrats controlled the executive branch and both houses of Congress, they would then "change election law and it will be almost impossible to ever see a Republican majority again."
Bachmann assured her intended audience that she's "not crying wolf here."
President Obama "has a perpetual magic wand," Bachmann asserted, "and nobody's giving him a spanking yet and taking it out of his hand. That's what Congress needs to do: give the president a major wake-up call." The way we "spank the president," according to Bachmann is "through the checkbook," denying him the funding he needs to pull off this massive voter manipulation scheme.
Watch video below, via World Net Daily:
(H/T)
—
>> Follow Matt Wilstein (@TheMattWilstein) on Twitter
Have a tip we should know? tips@mediaite.com