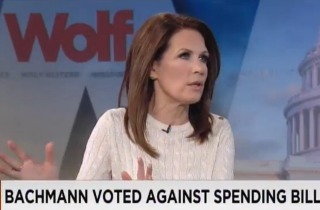 In her so-called "exit interview" from Congress, outgoing Rep. Michele Bachmann (R-Minn.) told Wolf Blitzer that she is not ruling out a presidential run in 2016, and at the very least wants to be a part of the conversation surrounding the Republican candidates.
"I have no plans to put together a committee and run again, but I intend to weigh in and be involved," Bachmann said. Asked by Blitzer if she is ruling out running for president, she simply said she does not have plans to do so. Blitzer countered that she isn't ruling it out, to which she responded, "oh for Heaven sakes, I'll be involved but at this point there's no campaign committee."
Bachmann said she has "a lot to say" about issues like Benghazi because she was a member of the House Intelligence Committee during likely Democratic candidate Hillary Clinton's time as Secretary of State.
In addition to discussing the upcoming presidential race, Bachmann expressed her disapproval at the continuing resolution that passed Thursday night to keep the government open through February. She said her vote again the spending bill was the most important and consequential vote she took throughout her 8 years in Congress because it involved a Constitutional crisis over President Obama's "amnesty" executive order. The vote last night funds the president's immigration plan that he announced in November.
Asked why she did not seek re-election, Bachmann said she wanted to "remove the handcuffs" to spend more time writing and speaking at various events.
On running for president again, Blitzer ended the interview by simply saying, "you didn't say never."
Watch the video below, via CNN:
[Image via screengrab]
— —
>>Follow Andrew Desiderio (@forza_desiderio) on Twitter
Have a tip we should know? tips@mediaite.com