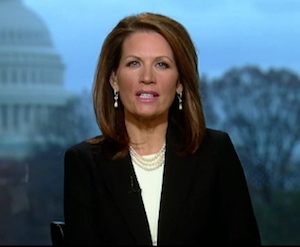 Michele Bachmann appeared on America's Newsroom and called upon NBC to apologize for an inflammatory song that Roots drummer Questlove played to introduce her on Late Night with Jimmy Fallon. "If that song had been played for Michelle Obama, I have no doubt that NBC would have apologized to her, and likely they could have fired the drummer, or at least, suspended him," Bachmann fumed. "None of that happened from NBC, and this is clearly a form of bias on the part of the Hollywood entertainment elite but it's also sexism as well."
Bill Hemmer asked the Republican presidential candidate if she knew about the offensive nature of the song when she was brought out on stage.
"I wasn't aware of it at all, I didn't find out until later yesterday…I'm hoping to be able speak to Jimmy Fallon today, I don't have anything against Jimmy Fallon, I love him, he's a kick, it was a great opportunity to be on the show, I'd love to go back again (but) this wouldn't have be tolerated if this was Michelle Obama, it shouldn't be tolerated if it's a conservative woman either."
RELATED: NASCAR Boos Vs Lyin' Ass Bitch: How Have The Media Treated Michelle And Michele?
"Of course I accept Jimmy's apology, but this really needs to come from NBC and this is an outrage that happened," Bachmann concluded.
Watch Bachmann's outrage over The Roots' introductory song via Fox News:

Have a tip we should know? [email protected]