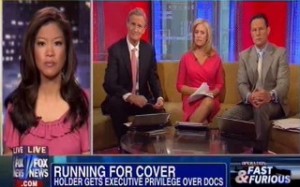 Michelle Malkin appeared on Fox & Friends on Thursday where she was asked to recap the Fast & Furious gun walking scandal Congressional hearings yesterday that resulted in a committee vote to find Attorney General Eric Holder in contempt of Congress. Malkin said that President Barack Obama asserting his right of executive privilege exposes his involvement in the scandal and said that "Obama is at the center of it."

RELATED: Heated Juan Williams/Michelle Malkin Shoutfest Gets Personal With Eyerolls, 'Snotty' Accusations
"I think that he continues to show unbridled hubris," said Malkin. She that Sen. Charles Grassley (R-IA) said showed Holder was misleading Congress when he claimed Fast and Furious was similar to a Bush-era program with a similar goal but a smaller scope and different execution methods.
"He's been nailed on what he knew and when," Malkin said.
"We don't want to forget, this is about someone who died," said fill-in co-host Melissa Francis. She proceeded to play a tape of the mother of border patrol agent Brian Terry who condemned the Fast and Furious operation.
Co-host Steve Doocy asked Malkin to react to a quote from Grassley asking how President Obama could exert executive privilege over documents Holder claimed he never saw.
"Of course, the maneuver that they undertook yesterday just underscores something that some of us have been emphasizing since day one of this scandal over the last year and a half – and that is that Obama is at the center of it," said Malkin.
"These Democrats don't even know border patrol agent Brian Terry's name," continued Malkin. "They sit there and accused Republicans of turning this into some sort of election year game – when it is the DoJ, it's Eric Holder and it is ultimately President Obama who is responsible for dragging this out for so long."
Finally, co-host Brian Kilmeade asked Malkin to weigh in on a statement by House Minority Leader Rep. Nancy Pelosi (D-CA) saying she could have had former George W. Bush advisor Karl Rove arrested any time she wanted.
"This is the only card they have left to play," Malkin concluded. "News flash: George W. Bush is no longer in office."
Watch the segment below via Fox News Channel:
> >Follow Noah Rothman (@Noah_C_Rothman) on Twitter
Have a tip we should know? tips@mediaite.com