Michelle Malkin: Al Jazeera A 'Trojan Horse For Terror TV,' Responsible For The Loss Of American Lives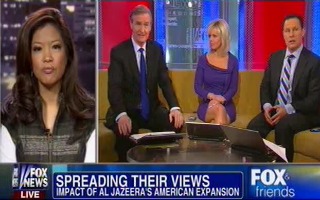 Conservative columnist Michelle Malkin severely criticized the Doha-based cable news network Al Jazeera and its plan to expand into America by replacing Current TV. She called the network a "half billion dollar Trojan Horse for terror," and said that the network's Arabic-language arm is responsible for "cheerleading for terror." In that sense, she says, the network is responsible for the deaths of Americans and their expansion into the USA is an outrage.

RELATED: Michelle Malkin Slams 'Sycophantic' GOPers Who Failed To Mention YouTube Video To 'Stick It' To Clinton
Malkin was asked about a presidential debate commissioner who recently said that it was a mistake to let CNN anchor Candy Crowley moderate a debate. Malkin said that it was more than the moderator that was the mistake, it was the fact that a Republican allowed himself to appear on what she considered an unfriendly venue. She suggested that the GOP find new venues for future debates.
"Or, maybe, over on Al Jazeera," Steve Doocy suggested.
Brian Kilmeade asked Malkin about Al Jazeera's recently aggressive expansion. "What do you think's happening here?" Kilmeade asked. "What are they trying to do with Al Jazeera USA?"
"The American Spectator put it very well," Malkin began. "This is a half billion dollar Trojan Horse for terror TV."
"Along with the rest of the domestic liberal media, Al Jazeera is going to pose – put on a mask of objectivity," Malkin added. She mocked the notion that Al Jazeera is hiring investigative reporters to perform journalism.
"I think it's incumbent upon those of us who are very familiar with how Al Jazeera abroad has cheerleader for terror, that has taken American lives, that they know who these people side with," Malkin said.
Watch the clip below via Fox News Channel:
> >Follow Noah Rothman (@NoahCRothman) on Twitter
Have a tip we should know? tips@mediaite.com