Michelle Malkin And Fox Hosts Allege IRS's Lois Lerner Tried To Force GOP Candidate Out Of A Race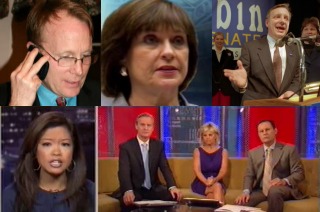 Conservative columnist Michelle Malkin appeared on Fox & Friends where she and the hosts revealed a bombshell allegation regarding the IRS targeting scandal. Quoting a report in an Illinois-based political blog, Malkin and the Fox hosts detailed a story about how Lois Lerner, the suspended IRS director implicated in the targeting of conservative groups, had previously attempted to intimidate a GOP Senate candidate in 1996 out of the race while she was at the Federal Election Commission.

"As you know, the Tea Party was on the ropes for a couple of years, and now we know why," Brian Kilmeade began. "Because the IRS was not green lighting it, was auditing it, and putting them through hoops to get their okay in many cases."
He noted that a series of Tea Party groups have now sued the federal government for discrimination.
"I think this administration should be quaking in its boots," Malkin said. "These are organizations that the administration and these top IRS officials – not merely these low-level rogues – were targeting because they knew they could be intimidated. They did not have deep pockets like some of the big, juicy corporate targets and larger nonprofit organizations."
RELATED: New IRS Letters Show Tea Party Targeting Went Beyond Cincinnati Office
She said that the targeting scandal is likely to include other federal agencies beyond the IRS because some have come forward and claimed that their businesses were targeted by the government for political reasons.
Steve Doocy reported that the IRS official in charge of tax-exempt status application who was recently placed on administrative leave, Lerner, was previously in charge of the enforcement division at the FEC where she was also engaged in targeting Republicans.
"She went after a Republican U.S. Senate candidate in the state of Illinois," Doocy said. The report he referenced in the Illinois Review blog claims that Lerner approached Sen. Dick Durbin's (D-IL) 1996 Republican challenger, State Rep. Al Salvi, after he was charged with two violations of FEC code. "Promise me you will never run for office again, and we'll drop this case," Salvi says Lerner told him.
Malkin said that these bureaucratic officials have been involved in bureaucracy for decades, and "have this long history of targeting conservative organizations, and individuals, and candidates, and trying to snuff them out of political life by abusing their government authority."
Watch the clip below via Fox News Channel:
> >Follow Noah Rothman (@NoahCRothman) on Twitter
Have a tip we should know? tips@mediaite.com