Michelle Malkin Congratulates Fox News For Getting White House To End Benghazi Cover Up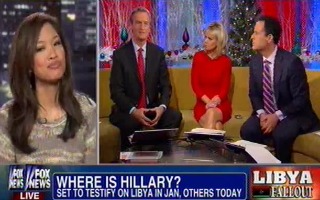 Conservative columnist Michelle Malkin joined the hosts of Fox & Friends on Thursday where she expressed her frustration at the slow pace that the Obama administration had set for holding accountable those officials responsible for the intelligence failures which led to the September 11 attack in Benghazi. She did, however, acknowledge that progress is being made. Malkin congratulated conservative media outlets and Fox News for doggedly pursuing the Benghazi story and forcing the administration to end their stonewalling.

RELATED: Review Of Benghazi Attack Blames State Dept's 'Systemic Failures,' 'Grossly Inadequate' Security
Steve Doocy reported that Sec. Hillary Clinton is scheduled to testify about Benghazi, but opined that the administration would have had to move much faster to avoid the appearance of scandal if the president were a Republican.
Malkin said she was happy with a report which recently came out about the failures that led to the deaths of four Americans in Benghazi. She also said she was satisfied that this report led to the resignations of some members of the State Department. However, she was frustrated that the investigation would, in her estimation, not go all the way up to President Barack Obama.
"It still leaves Obama himself off the hook, and the fact that this man was responsible for ordering a whole cadre of people to lie to the nation and to the world," Malkin said.
"We're never going to find that out," Gretchen Carlson said. Malkin replied in agreement, but noted that progress is being made because of "Republican watchdogs."
I would just urge the Republican watchdogs who are largely responsible, in addition to conservatives who raised questions about this and the few people in the media – including those here at Fox News – who kept on this to out the truth; we finally did get the truth here about the video, and the systematic failures, this den of incompetence in the Department of State. Keep pushing. Keep demanding those answers. Keep shedding light, because cockroaches ultimately cannot hide from it.
"It's what we do here and we'll do it in the next year," Doocy replied.
Watch the clip below via Fox News Channel:
> >Follow Noah Rothman (@Noah_C_Rothman) on Twitter
Have a tip we should know? tips@mediaite.com