Michelle Malkin: Did Rand Paul's Filibuster Refurbish The Republican Party's Tarnished Brand?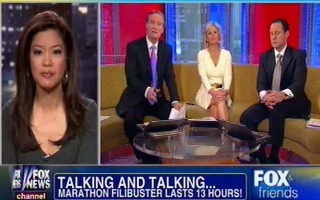 Did Sen. Rand Paul (R-KY) single-handedly refurbish the Republican Party's brand yesterday when he mounted a 13-hour filibuster of CIA Director nominee John Brennan in order to get information out of the White House regarding their drone warfare program? Conservative columnist Michelle Malkin said that it was a step in that direction, with Paul reaching out to constituencies traditionally predisposed to vote against GOP politicians. Appearing on Fox & Friends on Thursday, Malkin said that Paul's behavior is the kind of leadership that Republicans have been looking for.

RELATED: Morning Joe Impressed By Rand Paul's 'Spontaneity,' Filibuster Espousing View That 'Wasn't Popular'
"Sen. Rand Paul won a lot of respect, didn't he?" Brian Kilmeade asked Malkin.
"He sure did," she replied. "Here's the Republican Party that has been puzzling about its tarnished brand, and trying to figure out a way to reach out to non-traditional constituencies – well, it happened last night."
Malkin noted that Paul had assistance from other tea party Senators like Sens. Ted Cruz (R-TX) and Marco Rubio (R-FL). However, she was clear that it was Paul's actions that were the most inspiring.
Even if there are internal disagreements among Republicans and conservatives about the actual policy and the extent of what presidential authority should be in wartime, the fact that you had a singular figure grab the platform and spotlight, seize the narrative, and force a very uncomfortable issue in front of the White House and the world, that's the kind of leadership that a lot of Republicans have been looking for.
After playing a montage of highlights from the filibuster, Malkin returned to say that Democrats may have made a strategic mistake by refusing to confront the president over the drone program.
Watch the clip below via Fox News Channel:
> >Follow Noah Rothman (@NoahCRothman) on Twitter
Have a tip we should know? [email protected]