Michelle Malkin Eviscerates White House Tour Cuts As 'Sequester Theatre' On Fox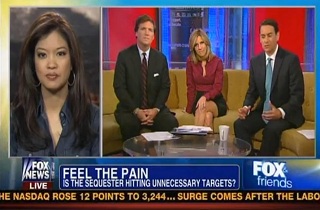 During a Saturday morning appearance on Fox & Friends conservative pundit Michelle Malkin took on the sequester cuts currently taking place as a political stunt to make the automatic budget cuts "as painful as possible." Malkin took issue with the cuts to the White House tour schedule and other high profile moves as part of "sequester politics."
Responding to a leaked Department of Agriculture email on the sequester cuts that has been circulating Malkin said that it's just part of the Obama administration's plan to make the cuts appear as bad as possible.
"It's the second act of sequester theater. It took the White House a couple of extra days to get all of their ducks in a row to unleash this on the public and I believe this is not the first memo that has disclosed that they wanted to make it as public and painful as possible. You know, you've got all the kids screaming and moaning that they can't go to the White House tours now. The Agriculture Department, Department of Homeland Security, and as I said, several other bureaus, and who would have put it past the orchestraters at 1600 Pennsylvania?" Malkin said.
Malkin thinks the politically minded cuts means the White House "is willing to put national security, economic security, and every real public interest at risk for the sake of sequester politics."
Fox ran a clip of Fox News hosts Eric Bolling and Sean Hannity pledging their personal funds to keep the White House open for tours during the time of the sequester cuts.
Malkin said she loves the idea.
"It's putting sequester theater and turning it on its head," she said.
Have a tip we should know? tips@mediaite.com