Michelle Malkin Goes After Marco Rubio for Backing 'Tyrant' Obama's Immigration Plan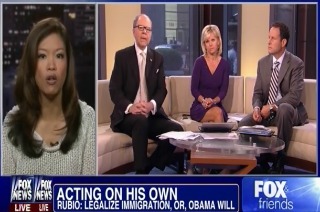 Conservative columnist Michelle Malkin slammed what she called Sen. Marco Rubio's (R-FL) latest rationale for passing comprehensive immigration reform; that President Barack Obama will enact reforms unilaterally with or without the GOP's support. She called Rubio's latest plea to conservatives "craven" and said that he should "go down fighting" against immigration reform rather than conceding that those reforms were already fait accompli.

"He's dug himself into a hole and he can't get himself out," Malkin said, dismissing Fox & Friends host Gretchen Carlson's suggestion that the Florida senator is in a tough position on immigration reform. "So he has resorted to rather desperate, silly, and may I add craven rationales for sticking with his disaster."
RELATED: Michelle Malkin Blows Up on Hannity Panel Over Race 'Troll' Harry Reid
"To argue to conservatives who believe in limited government that we should pass this massive amnesty monstrosity because Obama is going to do it anyway smacks of the worst kind of political expedience," she continued. "I think that Marco Rubio's higher ambitions have clouded his brain,"
Malkin said that, rather than serving the political objectives of a "tyrant," Rubio should be taking the side of the ICE agents suing the administration over their selective enforcement of immigration law.
"You should go down fighting with every last breath and try and persuade people that instead of legalizing millions of illegal aliens and continuing this same pattern that we should put a halt to it once and for all and do the right thing," Malkin insisted.
Watch the clip below via Fox News Channel:
> >Follow Noah Rothman (@NoahCRothman) on Twitter
Have a tip we should know? tips@mediaite.com