Michelle Malkin Hammers MSNBC And Andrea Mitchell For Refusing To Air Obama's 'Redistribution' Tape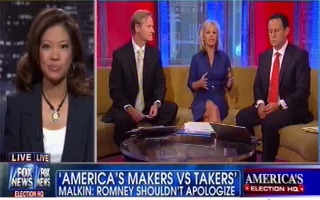 Appearing on Fox & Friends on Thursday, conservative columnist Michelle Malkin attacked MSNBC's Andrea Mitchell for refusing to air a tape of President Barack Obama from 14 years ago saying that he believes in redistribution because her network had not independently verified that the voice on the tape was that of the president. She said it was just another moment which exposes the bias in these supposedly independent observers in the media.

RELATED: Why Did Chuck Todd Sit Silently As Andrea Mitchell Claims MSNBC Won't Air Obama 'Redistribution' Tape?
After playing a clip of President Obama in 1998 saying he believes in redistribution, Steve Doocy said that he believed only Fox News had played that clip when it broke on Tuesday. "Andrea Mitchell over on MSNBC refused to run it – even though the White House did eventually authenticate it – because she said, "I can't verify that it's really him," said Doocy.
"She is a frequent winner of my drool bucket award for Obama," said Malkin. "The release of these kinds of tapes are useful insofar as they confirm what so many of us already know about the blatant, flagrant bias of these people who pretend to be on the sidelines."
Gretchen Carlson said that it's possible that so many Americans had tuned out of the election because they know that both Mitt Romney's 47 percent remark and Obama's redistribution tape are not gaffes but windows into what these politicians really think.
Malkin agreed. She went on to say that she believed that most voters are more concerned with gas prices and the economy over either candidate's gaffes.
Watch the clip below via Fox News Channel:
> >Follow Noah Rothman (@Noah_C_Rothman) on Twitter
Have a tip we should know? tips@mediaite.com