Michelle Malkin: Obama Has 'Pathological' Need to Take Other's Credit and Spread His Blame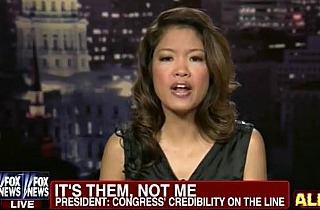 Conservative columnist Michelle Malkin appeared on Fox & Friends on Thursday to share her thoughts on President Barack Obama's ongoing push to generate support in Congress for a strike on Syria. After the president told reporters in Sweden on Wednesday that it was not his "red line" but the world's that was at stake in Syria, Malkin diagnosed the president with a "pathological" need to pass the buck.

"He looks nervous," Malkin observed. "And he should look nervous."
"After coming off of throwing the U.S. and an entire branch of government, our Congress, under the bus on a world stage, there really isn't much left for him in terms of ground to stand on," she continued. "A lot of people wish he wouldn't come back after that performance."
RELATED: Dem Senator Tells Rachel Maddow Why He Voted No on Syria Resolution
"He really is a pathological buck-passer," Malkin asserted.
Gretchen Carlson asked if Obama was trying to put Congress "on notice" and warn them that they will own the still likely attack in Syria whether they vote for it or not, so they may as well go on record in support of this venture.
"I don't know what the heck that was, Gretchen," Malkin replied. "We all know from government 101 that politicians are supposed to take credit and defuse blame, but the massive amount of appropriation of credit for other people's successes compared to the congenital redistribution of blame for his own failures really is remarkable."
Watch the clip below via Fox News Channel:
[Photo via screen grab]
— —
>> Follow Noah Rothman (@NoahCRothman) on Twitter
Have a tip we should know? tips@mediaite.com