Michelle Malkin: Obama Not Serious About Negotiations With GOP Unless 'Smarm Offensive' Broadcast On Fox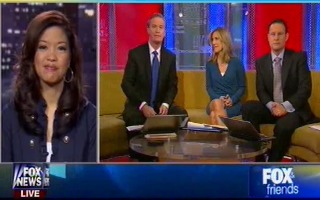 Conservative columnist Michelle Malkin dismissed President Barack Obama's outreach efforts to Congressional Republicans on Thursday, saying that Obama's charm offensive lacks the requisite charm to be effective. She continued to say that, if the president was serious about negotiations and was not simply seeking political advantage, he would broadcast these negotiations on a cable news outlet like Fox News.

RELATED: Jay Carney Smacks Down Question About Cost Of President's Golf Outings
"I know that you know that this is just a scheme," Steve Doocy said of Obama's outreach to Congressional Republicans. His two co-hosts, Brian Kilmeade and Alisyn Camerota, said that there was a chance that real bipartisan compromise could emerge from the effort even if Obama was engaging in a political maneuver.
"I think charm offensives actually require charm," Malkin replied. "This is more of a smarm offensive – giving the pose of bipartisan conciliation for the cameras when behind the scenes, by all accounts, this was a very tense meeting and an opportunity for Obama to once again chastise and wave his pointy finger at Republicans."
She said that Obama has a track record of seeking political advantage in negotiation with Republicans and not coming to the table in good faith.
"If this is supposed to be all for the public interest, why don't we have these meetings in public?" Malkin asked. "Broadcast on Fox News perhaps so we could see exactly what's being said and what's being promised. And I'd love to see Republicans' faces as he's pretending to extend the olive branch to them."
As the topic shifted to White House tours possibly resuming after they were suspended in the wake of mandatory budget cuts in the sequester. The Fox hosts played a clip of ABC News White House correspondent Jonathan Karl who asked White House Press Secretary Jay Carney on Wednesday to explain if the cost of one of the president's golf outings could offset the cost of the tours.
"If he was really intent – this president – on having a bipartisan pose and changing the way business is done in Washington, he would be swallowing each and every one of his lies about the sequester panic," Malkin exclaimed. "This is disgusting."
Watch the segment below via Fox News Channel:
> >Follow Noah Rothman (@NoahCRothman) on Twitter
Have a tip we should know? tips@mediaite.com