Michelle Malkin On NSA Scandal: I Thought Obama 'Declared The War On Terror Over?'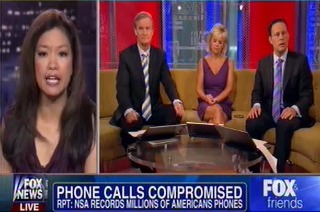 On Thursday, conservative columnist Michelle Malkin vigorously defended the National Security Agency's program of monitoring communications under the administration of President George W. Bush, but criticized what that program had become under President Barack Obama. She asked why any government security agency would need to monitor the communications of anyone, foreign or domestic, when Obama had recently declared an end to the conventional tactics used to fight the War on Terror.

"Should Americans be fearful of this this morning?" Gretchen Carlson asked regarding the revelation that the NSA has been monitoring the phone records of millions of Americans.
"Yes," Malkin replied. She said that the NSA directive to be able to monitor communications was an important and effective tool in the War on Terror, but it has since evolved into something more sinister.
RELATED: Scarborough, Guest Rip NSA Collecting Phone Records: Notion Of Obama As 'Anti-Bush' Rendered 'Ludicrous'
"In the years when all of the left-wing civil rights absolutists were going bananas once these these leaks came out about what he was doing, they pretty much treated him as if he was an international human rights criminal for doing it," Malkin said. "But it was very much more circumscribed."
She said that the communications monitoring regime under Obama is "massively more expansive" than anything Bush's administration attempted. She noted that they were monitoring international calls and even intercepted a terror plot as a result of that surveillance.
"The question here with the Obama administration is if he has declared the War on Terror over, what the heck is he doing?" she asked.
Brian Kilmeade and Malkin concluded by joking that Obama will come out and say he was shocked to learn on Fox News that this expansive monitoring had been occurring under his watch.
"We're all being Rosen'd as it turns out," observed Steve Doocy.
Watch the clip below via Fox News Channel:
> >Follow Noah Rothman (@NoahCRothman) on Twitter
Have a tip we should know? tips@mediaite.com