Michelle Malkin Rips Into 'Smugness' Of 'Mouthpiece' Jay Carney For Dismissing Benghazi Whistleblowers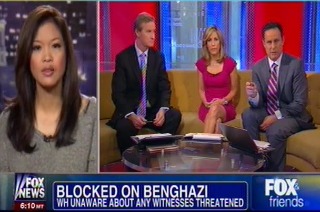 Conservative columnist Michelle Malkin ripped into White House Press Sec. Jay Carney on Thursday amid a discussion about President Barack Obama's response to the survivors of the Benghazi attack who are claiming they have been pressured to keep silent about their experience. Malkin became animated on Fox & Friends after being told that Carney said news outlets reporting that the Benghazi survivors had been blocked from testifying were "spreading misinformation."

Brian Kilmeade asked Malkin if she would agree with Carney who recently said that Benghazi was "a long time ago" and there has been a "pattern of spreading misinformation" by some news outlets investigating the White House's response to the September, 2012, attack on an American consulate in Benghazi.
"I would say that it's his mouth that has a long pattern of spreading misinformation," Malkin shot back at Carney. "And, the smugness of this mouthpiece of the Obama administration – of course, that all comes from the top down – but there is literally nothing that will wipe that smirk off his face at a press briefing."
RELATED: Fox's Ed Henry Challenges Obama On Syrian 'Red Line' And 'Blocking' Testimony Of Benghazi Survivors
"The idea that seven and a half months ago was a long time ago," she continued. "That sure explains a lot about our post-9/11 posture, because 9/11 to them must seem like the dark ages."
Alisyn Camerota submitted that Carney may have been suggesting that the Benghazi whistleblowers could have come forward much sooner. Malkin replied that these whistleblowers have been faced with "intimidate" from the Obama administration.
She added that the president's administration has "a long history" of "harassment, and intimidation, and gag orders on whistleblowers in all corners of government."
"These people are heroes," Malkin declared. "And the fact that you have the White House press shop trashing them and, by proxy of course through their lawyer, bespeaks of the kind of, you know, disturbed attitude that a lot of Americans have towards this administration and how they've handled it."
They played a clip of Fox News Channel reporter James Rosen who revealed last night that a number of whistleblowers claim that they have been directly intimidated by the administration, but the disinterest of the media and the Congress will prevent Benghazi from becoming a major scandal.
Steve Doocy suggested that the administration was trying to "run out the clock" on the controversy. Malkin agreed and congratulated those reporters and media outlets that were focused on the Benghazi investigation.
Watch the segment below via Fox News Channel:
> >Follow Noah Rothman (@NoahCRothman) on Twitter
Have a tip we should know? tips@mediaite.com