Michelle Malkin Savages Obama's 'Photo Op' Middle East Trip: 'He Shouldn't Have Gone In The First Place'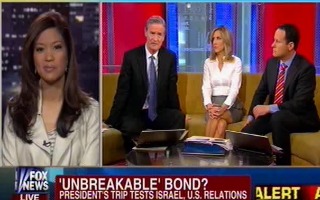 On Thursday, Michelle Malkin appeared on Fox & Friends where she pummeled President Barack Obama's approach to America's relationship with Israel and the peace process between the Jewish state and Palestine. She said that Obama's entire trip to the Middle East was political and merely a "photo op." When asked what the president could have done to make her think the trip was a success, Malkin said "he shouldn't have gone in the first place."

RELATED: Obama Pressed By Israeli Reporter On Morality Of Allowing Innocents To Be Slaughtered By Syrian Gov't
Steve Doocy asked whether the president was sending conflicting messages in his two joint press conferences, the first with Israeli Prime Minister Benjamin Netanyahu and the second with Palestinian President Mahmoud Abbas.
"I think the White House photo album will reflect that this entire trip was one of faux friendship photo ops on both sides of the border," Malkin replied. "Yesterday, of course, I think the unspoken words at the end of Obama's declaration – that he supported an unbreakable alliance between Israel and America – was the phrase 'despite my best efforts to break it.'"
She thought the most "remarkable" statement Obama made was to compare the relationship between Israel and Palestine to the bilateral relations between America and Canada. She said that this statement had "a lot of jaws dropping on Twitter this morning," because few could recall Canada "lobbing missiles into the United States."
"If this just is all a photo op, what would you have preferred to see President Obama do in these couple of days there?" asked Alisyn Camerota.
"He shouldn't have gone in the first place," Malkin replied. "That our Nobel Prize-winner in chief has been pretty happy with the status quo that he is now sanctimoniously condemning on this trip."
Kilmeade said he thought that the most important leg of Obama's Middle East trip would be to Jordan with the aim of securing relations between America and that state's pro-Western government. Malkin said she was concerned that the president could not accomplish even that task.
Watch the clip below via MSNBC:
> >Follow Noah Rothman (@NoahCRothman) on Twitter
Have a tip we should know? tips@mediaite.com