Michelle Malkin Slams 'Sycophantic' GOPers Who Failed To Mention YouTube Video To 'Stick It' To Clinton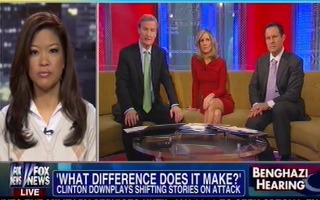 Conservative columnist Michelle Malkin expressed her disappointment with Congressional Republicans in an interview with the hosts of Fox & Friends on Thursday. She said that too many GOP members of the House and Senate who had the opportunity to grill Sec. Hillary Clinton on Wednesday failed to mention the YouTube video which was initially blamed by Obama administration members for igniting a protest which led to the Benghazi attack.

RELATED: Hillary Clinton Goes Off On GOP Senator Johnson During Benghazi Hearings
"It wasn't just the fawning Democrats who were enabling this circus, but there were many, unfortunately, many sycophantic Republicans who helped as well," Malkin said.
After playing a clip of the contentious exchange between Sen. Ron Johnson (R-WI) and Clinton yesterday, Malkin said that she was disappointed he was one of only a handful of Republicans who brought up the video on Wednesday.
"There were a couple of Republicans on both the House and Senate side that tried to make that clear, but I think there were more Republicans who squandered the opportunity to really stick it — not only to Hillary and the State Department – but to this entire lying administration," Malkin continued.
"The key questions about how this administration lied, and lied, and lied to the American public, and used this YouTube video as a ruse, really needed to get out there. But there were – I think you could count on the number of fingers on your hand how many times Republicans mentioned the video," she added with frustration. "Did they take an oath of office not to mention it yesterday?"
Watch the segment below via Fox News Channel:
> >Follow Noah Rothman (@NoahCRothman) on Twitter
Have a tip we should know? tips@mediaite.com