Michelle Malkin: State Department Looks Like 'Chinese Government Propagandists' Over Dissident Issue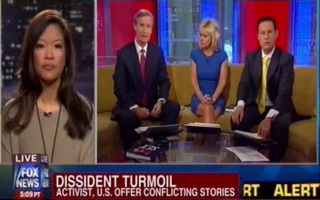 On Thursday, conservative columnist Michelle Malkin appeared on Fox & Friends to weigh in on the scandal surrounding Chinese dissident Chen Guangcheng, who was hiding in the U.S. embassy in China, seeking extradition. Guangcheng was recently released back to Chinese custody after reports surfaced that Chinese officials were making threats against his family and friends. Malkin said that the Obama administration's State Department is close to looking like "Chinese government propagandists at this point" and the scandal is "blowing up."

RELATED: On Hannity, Michelle Malkin Tears Into Juan Williams' Comparing Occupy Violence To Tea Party 'Racism'
Malkin said that the scandal surrounding the dissident came to light via social media networks like Twitter and has become an "embarrassment" for the Obama administration.
Malkin said that the State Department and America's ambassador to China have been insisting that Guangcheng left the U.S. embassy in Beijing of his own free will, but that is contradicted by sources in China close to Guangcheng. Malkin said that he "left under pressure" and "this is not free will and I think the administration should stop saying it."
"Look, I think the whole world is watching," said Malkin. "This is a moment when the human rights rhetoric of the administration meets the road. Does President Obama deserve that Nobel Peace Prize or not? And I think that there are freedom activists looking to America – as they always have as a beacon and a sanctuary – and we're either going to meet that rhetoric or abandon it."
Co-host Brian Kilmeade said that he believed the U.S. should issue an ultimatum to China over the status of the dissident. "Our delegation leaves or we're going to put him on a plane," said Kilmeade. "If you're going to keep him there, we're done. We have nothing to talk about. Because, this is only going to get worse from here on in. We have to set a precedent."
Malkin agreed and went a step further, blaming the State Department for attempting to minimize the scandal in order to maintain good Sino-American relations. "The State Department is very close to looking like Chinese government propagandists at this point and it's blowing up," said Malkin.
She also weighed in on the Obama administration's approach to terror as Khalid Shake Mohamed faces his trial at Guantanamo Bay. Malkin likened the administration's approach to the war on terror with "schizophrenia."
"With regard to these Gitmo terrorists, it has dragged on for years and years," said Malkin. "[Attorney General] Eric Holder insists that these things be adjudicated in civil courts when all along the Bush administration, now the Obama administration has come to the same conclusion, was right."
Finally, Malkin was asked for her opinion on the scandal surrounding Massachusetts Senate candidate Elizabeth Warren who was caught listing her ethnicity as Native American for nearly 10 years. Malkin said that Warren was caught in an attempt to exploit the "racial spoils racket."
"Asked for evidence, her first reaction was to accuse those of asking for proof of being guilty of sexism. And, of course by implication, racism," said Malkin. "The mockery that has ensued is quite delicious. 'Faux-cahontas' is a good one. I can't top Dennis Miller last night who called her 'Spreading Bull,'" Malkin concluded.
Watch the segment below via Fox News Channel:
Have a tip we should know? [email protected]