Michelle Malkin: 'War On Women Rhetoric Has Backfired On The Progressive Left'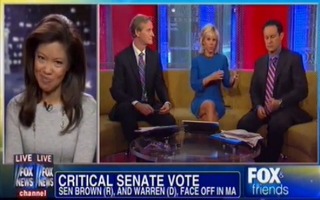 Conservative columnist Michelle Malkin appeared on Fox & Friends on Thursday, sharing that she believed the "war on women" rhetoric was backfiring on Democrats.
"The President has made some gains in battleground states with women. But the 'war on women' overall, how effective do you think it's been?" host Brian Kilmeade asked Malkin.
RELATED: Erin Burnett 'Annoyed' By RNC Attack Ad, Calls For End To 'War On Women'
"Well, according to one report, apparently not very," Malkin responded. "In the Massachusetts Senate race where [Harvard University Professor] Elizabeth Warren, the Democrat and erstwhile failed almost-appointee to the Consumer Protection Agency for the Obama administration, has made her gender a key issue and has had every last feminist organization out there pounding [Sen.] Scott Brown."
"According to the Independent Women's Forum and, I believe, Kellyann Conway's polling firm,they just did a recent survey and found that not only was all of this anti-women demagoguery not working for Elizabeth Warren, but in fact, Scott Brown is slightly ahead," said Malkin.
"[T]his 'war on women' rhetoric has backfired on the progressive left," Malkin concluded. "As we head into November, we're going to see more and more of this ratcheting up of this politics of personal destruction and the demagoguery – whether it's with women or on race – anything to distract from the economy and the jobs death toll that this administration is responsible for."
The report Malkin refers to suggests that the Brown-Warren race measures the failure of the Democratic attacks on conservatives as being anti-women, and links to a Politico story which reinforces that conclusion.
Conway's firm, The Polling Company, conducted a survey of 505 likely Massachusetts Senate race voters which showed Brown leading Warren with 47 to 39 percent support. That is up from the firm's previous poll, taken one month ago, that showed Brown leading Warren by 43 to 34 percent.
However, the Polling Company's survey could be said to represent an outlier when compared with other recent surveys of the political landscape in the Bay State. Recent polls of the Massachusetts Senate race have ranged dramatically in the past two months – from a 9 point lead for Brown to a 5 point lead for Warren. A survey by the Democratic firm Public Policy Polling from March 16 to 18 of registered voters showed Warren leading Brown by 5 points, whereas a Boston Globe survey from March 21 to 27 of likely voters showed Brown with a narrow 2 point margin over Warren.
Watch the segment below via Fox News Channel:
Have a tip we should know? tips@mediaite.com