Michelle Malkin To Hannity: Obama Using Children As Props Was 'Beltway Theatrical Staging'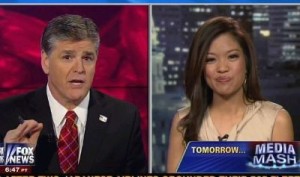 Sean Hannity highlighted a national "gun rush" that has seen gun owners all across the country rushing to buy more guns for their households in fears that the government will soon come for their firearms. Hannity brought on Michelle Malkin to explain why the gun rush is a "rational response" to recent events. Malkin said that gun owners are stocking up because they want to be ready before the government inevitably comes to take away their guns.
RELATED: Rick Perry Says Obama's Actions On Gun Control 'Disgust' Him, Claims Prayer Is The Answer
Hannity brought up an absurd technicality of the New York assault weapons ban that allows one type of gun banned but permits a very similar-looking gun only because it does not have a cosmetic handgrip. Malkin called it "gob-smackingly dumb" and said many gun-owning New Yorkers are rightly concerned about the scope of the law.
Hannity also found the limits on magazines to be ridiculous, saying that anyone whose house is being invaded by a criminal "better be a good shot." Malkin told Hannity that law-abiding gun owners "fear for their safety," which is why they are "rushing to these gun shops." She defended it as a "rational response" to what she and many others believe to be "inevitable government overreach," while mocking the voices on the left who are laughing off the talk of tyranny.
Hannity and Malkin were both disgusted by how children were used as props during Obama's gun announcement, with Malkin dismissing it as sheer "Beltway theatrical staging" in order to avoid addressing legitimate criticism.
Watch the video below, courtesy of Fox News:
Have a tip we should know? tips@mediaite.com
Josh Feldman - Senior Editor