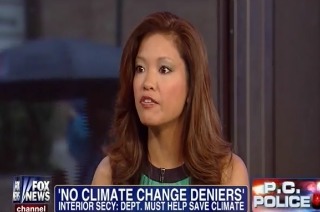 Conservative columnist Michelle Malkin sat down with the hosts of Fox & Friends on Tuesday where she severely chided Secretary of the Interior Sally Jewell for saying at a recent news conference that she hopes there are "no climate change deniers" in the Department of the Interior. Malkin accused Obama administration officials of talking about climate change in cult-like terms and warned that a "witch-hunt" against those skeptical of global warming was in the offing.

"We are in a really privileged position on two other trends out there because we have a chance to do something about them," Jewell told a Washington D.C. audience on July 31. "One is very important, very much in our face and really critical, and that is climate change."
"I hope there are no climate change deniers in the Department of the Interior," Jewell warned.
"What does that mean if you are a climate change denier?" Gretchen Carlson asked Malkin. "You're not welcome."
"Watch out," she replied. "It's going to be a witch-hunt."
RELATED: GOP Rep.: 'Global Warming is a Total Fraud,' Plot to Institute 'Global Government'
Malkin said that there was precedent in the sense that former Environmental Protection Agency researcher Alan Carlin was "railroaded" after he questioned the necessity of some of the more impactful environmental protection programs.
"It's a cult," Malkin asserted. "This woman is talking like a cult leader."
"I have to say that these people have a lot of chutzpa lecturing us about scientific integrity when it was the Obama Interior Department that was dinged and spanked by several courts for their perversion of science when it came to concocting a rationale for the drilling moratorium," she continued.
Clayton Morris observed that the "team of rivals" that Obama touted after his first election has devolved into more of a team of like minds.
"Team of eco-zombies is what it is," Malkin agreed.
Watch the clip below via Fox News Channel:
> >Follow Noah Rothman (@NoahCRothman) on Twitter
Have a tip we should know? tips@mediaite.com