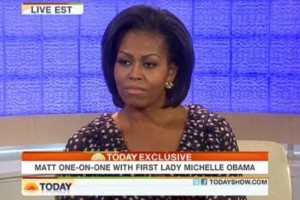 First Lady Michelle Obama appeared with Matt Lauer on The Today Show and addressed a wide range of issues from the situation in Egypt, to her Super Bowl Party menu to her husband's successful effort to quit smoking. While she deftly demurred on Egypt saying "I'm not going to comment on his policy decisions," she did discuss the "hate" towards her husband brought up in Bill O'Reilly in a pre-Super Bowl interview with the president.
Lauer brought up the subject in a delicate matter saying "before the Super Bowl your husband gave an interview to Bill O'reilly and was asked if it disturbed him that so many people hated him," continuing "Ithink the word "hate" is a very powerful word. Do you think people hate your husband, even those on the far right?"
Ms. Obama's response was remarkably restrained, saying:
I'm sure that there are some people who don't like my husband. any president of the United States. This is a tough job. You're not going to please everybody all the time. That's not why you do this job. There are tough decisions that have to be made. So I'm sure there are people who don't like my husband. There are people who have had strong feelings about every single president that's ever held the office.
The entire interview covers a "potpourri" of subjects: Ms. Obama defended her comfort food Super Bowl party menu (in light of her anti-obesity campagin) by reminding Lauer that she has always been in favor of a balanced approach. She also talked about raising her children in a White House environment and how she has no interest in having her kids get on Facebook.
Have a tip we should know? tips@mediaite.com