Michelle Obama Gives Keynote Speech At NAACP Convention As They Plan Anti-Tea Party Resolution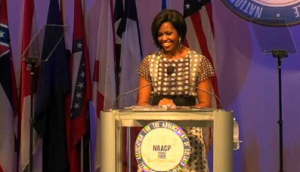 Earlier today, First Lady Michelle Obama gave the keynote speech NAACP's annual convention. Her speech was met with enormous applause, unsurprising considering she is basically the personification of everything the organization has fought for in its 101-year history. However, the NAACP would like all of its members to know that their work is not yet finished. They plan on rejuvenating the base by voting tomorrow on a resolution to condemn the Tea Party.
The resolution (which is expected to pass) will condemn the Tea Party movement for using racial epithets at rallies and allegedly threatening black members of Congress during the Health Care debates.
From ABC News:
"'We're deeply concerned about elements that are trying to move the country back, trying to reverse progress that we've made,' NAACP spokeswoman Leila McDowell told ABC News. "We are asking that the law-abiding members of the Tea Party repudiate those racist elements, that they recognize the historic and present racist elements that are within the Tea Party movement."

The National Association for the Advancement of Colored People, in coordination with 170 other groups, including labor unions, is planning a protest march in Washington, D.C., Oct. 10 as the next step in building momentum against the Tea Party."
It's hard for anyone to condemn the Tea Party for being racist since it's such a fragmented group. There is no one Tea Party and for every person involved whose hatred of Obama does boil down to the color of his skin, there are plenty more who are just angry about the way the government is being run. Still though, the movement is an obvious target for the NAACP to make since the alleged racism of the Tea Party was such a fixture in the news a few months ago.
But, if the resolution tomorrow helps the NAACP by rallying the troops, it may hurt the First Lady. While her speech never touched on the Tea Party (she spent most of it discussing her childhood obesity initiative "Let's Move"), the fact that she appeared so close to the vote on the Tea Party resolution will assuredly be more ammunition for people who believe, following the Black Panther DOJ scandal, that the Obama administration is somehow favoring blacks over whites. Glenn Beck covered the NAACP's proposed resolution in his program today and it is very likely that many will view First Lady Obama giving a speech at a convention for an anti-Tea Party group as proof that she is anti-Tea Party herself even if her speech was mostly anti-fatty foods.
Watch the whole of Michelle Obama's speech below.
Have a tip we should know? tips@mediaite.com