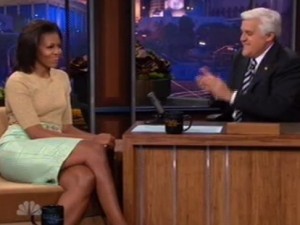 On Tuesday night's The Tonight Show with Jay Leno, First Lady Michelle Obama snuck in a stealth shot at former Massachusetts Governor Mitt Romney's singing skills. Asked by Leno what she thought of Gov. Romney's recent rendition of America The Beautiful, the First Lady replied, with a laugh, "It's a beautiful song," adding that "it is America's song, and it's a song that's mean to be sung by every American."
RELATED: American I-Dull: Mitt Romney Sings America The Beautiful For Florida Crowd
Mrs. Obama began by regaling Jay with tales of President Obama serenading her with soulful tunes from the likes of Rev. Al Green, Marvin Gaye, and Stevie Wonder, adding that to the Obama children, "Anything we do is highly embarrassing. They want us to be very quiet."
RELATED: President Obama Takes Apollo Crowd To Church With Al Green's 'Let's Stay Together'
Leno asked if she had heard Romney's version of America The Beautiful. "I saw it in the green room," Mrs. Obama replied with a laugh. "It's a beautiful…song."
The word "song" was largely drowned out by the crowd cheering, so it sounded like she called the Governor's singing "beautiful," but either way, it was a valiant attempt at diplomacy.
"And it is America's song," she continued, "and it's a song that's mean to be sung by every American."
"That is right," Leno agreed. "Regardless of political — that's right."
From NBC:
I agree with that sentiment. I'd rather hear a fair-to-middling rendition of America The Beautiful than a dead-perfect version of many other songs. In fact, I'm going to make a confession that no liberal should ever make, just to show that musical appreciation isn't all about politics, or even about talent. One of my all-time guilty pleasures, and not in an ironic way, is former Bush Attorney General John Ashcroft's self-penned "Let The Eagle Soar," best known from Michael Moore's Fahrenheit 911.
My fellow liberals may choose to laugh at the cheesy boombox backing music, or Ashcroft's quavering church vibrato, but I love every cheesy second of it, and will loudly sing along to it at any opportunity. Now, if I can admit that, surely there are conservatives who can bring themselves to allow that President Obama does a wicked good Al Green. From there, who knows?
If you haven't feasted on this aural buffet, prepare for takeoff! Here's Let The Eagle Soar:
Have a tip we should know? tips@mediaite.com