Michelle Obama Promotes And Defends Her Anti-Obesity Campaign On Good Morning America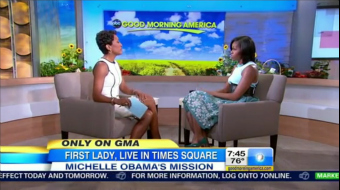 During Tuesday morning's edition of ABC's Good Morning America, First Lady Michelle Obama sat down with Robin Roberts for an interview that touched upon her new book American Grown, her "Let's Move!" anti-childhood obesity campaign, Beyonce, and gardening in an urban environment.
Roberts started out by asking Obama about the critics of her "Let's Move!" campaign who believe it's "all part of big government." The First Lady responded that:
…This isn't about government telling people what to do. What we know we need to do is give parents, community, families the tools and information they need to make choices that are right for them and there's no one-size-fits-all solution. … "Let's Move!" is a way of giving people the tools and information and it really requires everybody to step up. We need our mayors stepping up, restructuring cities so that kids have safer places to play. We need our food manufacturers stepping up and really thinking about how to reformulate food products so that they are a little more healthy and affordable. We need big supermeasures to locate grocery stores in underserved communities.
Roberts then brought up the fact that Obama and her two daughters were spotted at this weekend's Beyonce comeback concert, and that the pop star has been a big supporter of the "Let's Move" campaign.
"Without asking, [Beyonce] reformulated 'Move Your Body' to do a flash-mob for kids across this country," Obama said. "I visited a middle school when we launched — a middle school in D.C. — the entire middle school class was up and dancing."
The First Lady and Roberts went on to do a hands-on demonstration showing how students and families can garden even when there isn't much open space.
Check out part one below, via ABC:
Part two:
Have a tip we should know? tips@mediaite.com