Michigan Auto Shop Goes Viral After Posting No Service for Gays, Discount for Gun Owners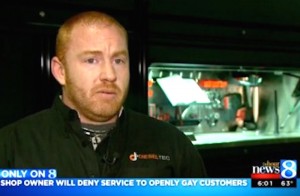 After the owner of a Michigan-based auto repair shop wrote on Facebook that he will refuse service to openly gay individuals, his post went viral on the social media site, spurring numerous media write-ups and an explosive amount of comments.
"I am a Christian," wrote Brian Klawiter, owner of Dieseltec in Grandville, Michigan. "My company will be run in a way that reflects that. Dishonesty, thievery, immoral behavior, etc. will not be welcomed at MY place of business. (I would not hesitate to refuse service to an openly gay person or persons. Homosexuality is wrong, period. If you want to argue this fact with me then I will put your vehicle together with all bolts and no nuts and you can see how that works.)"
Klawiter also stated that he will offer a discount for customers who bring their gun into his shop — on-duty police officers excluded, he said, because their guns were purchased with tax dollars.
Dieseltec's new policy seems to have been inspired by recent battles over "religious freedom" laws in Indiana and Arkansas. "Enough is enough," the owner began his post. "Our rights as conservative Americans are being squashed more and more everyday. Apparently if you are white (or close to it), you have a job, go to church, and own a gun… That translates into racists, privileged, bigot, conspiracy theorist. Too many of us say nothing."
Naturally, when his Facebook declaration went viral, local NBC affiliate station WOOD-TV got a hold of him, asking him to further elaborate on his new policy. "If you have a vehicle that needs to be repaired, we'd be happy to do that for you," he told the channel. "But if you want to come in here with your boyfriend and you want to openly display that, that's just not going to be tolerated here. We don't believe that here."
The story was picked up by Huffington Post and ThinkProgress; and, as a result, his post has since shot up to being among the top 10 trending items on Facebook.
A GoFundMe page was started, purportedly in support of the auto shop, but has since been removed.
On Thursday afternoon, Klawiter claimed in a new Facebook post that he had not requested anyone set up a crowdfunding page to support his business. However, he said, "I will stand firm on my views and will not back down" in the face of alleged threats to attack his business.
Watch the WOOD-TV report below:
UPDATE — 04/16/15, 9:11 p.m. ET: Protesters have taken to Yelp to bash Dieseltec and Brian Klawiter: Click here
UPDATE — 04/16/15, 9:20 p.m. ET: Klawiter added this recently to his Facebook page: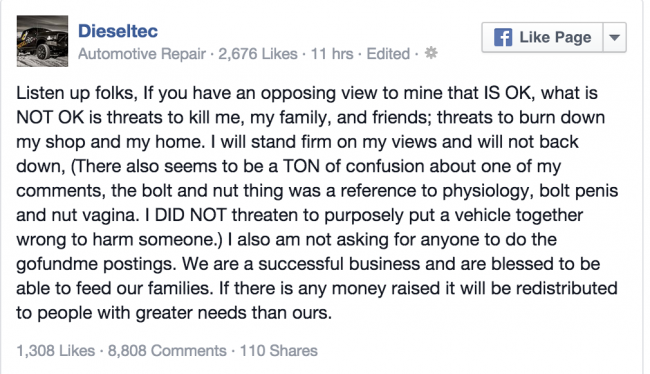 — —
>> Follow Andrew Kirell (@AndrewKirell) on Twitter
Have a tip we should know? tips@mediaite.com