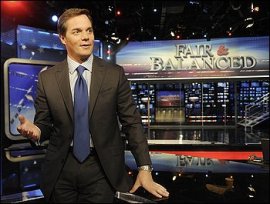 Fox News anchor Bill Hemmer is profiled today by The Washington Post's Howard Kurtz and talks about the reason for America's Newsroom's success, the ideology booking discrepancy and more.
But Kurtz also reveals Hemmer, like his colleague Greta Van Susteren recently, has re-upped with the network.
Kurtz writes Hemmer "recently signed a multi-year, multimillion-dollar contract that has not yet been announced."
The CNN host and media critic also looked at Hemmer's show for the month of June, and saw a discrepancy in the amount of Republican and Democratic guests. But Hemmer said the difference doesn't makes his show any less 'fair and balanced.' "If the booking leans one way, it's the responsibility and duty of me as the host, the presenter, the interviewer, to make sure the topic is evenly treated," he said.
FNC Senior Vice President Michael Clemente praised Hemmer in the column: "He's a wholesome reporter, he's from Ohio, he grew up in a large family, he has an innate curiosity and he's likable…he's almost an Everyman, a decent guy."
As for the two hour morning news block, now hosted by Hemmer and Martha MacCallum, the ratings show the success very clearly: it is averaging "1.3 million viewers this year, more than the combined audience for CNN, MSNBC and HLN." Interestingly it is the health care debate last summer that Hemmer says was a "turning point" for the news program. "We covered those town hall meetings with greater vigor than our competition, and we were rewarded with viewers," he told Kurtz. "It was better television."
It's hard to argue that "better television" didn't also mean more polarizing, politically one-sided television. That goes back to the booking debate. Hemmer says, despite the guests, it's his responsibility to make sure the subject matter is "evenly treated." It's an important distinction, and one that the Fox News news hours continue to make. From 9amET-4pmET, the topics and guest list may look a bit different than CNN or MSNBC, but the goal is approaching the topics and guests from a position of even-handedness. It's worked well for Hemmer since his time at CNN – and now he'll be at Fox News continuing navigating that fine, but important, line for at least several more years at the network.
(Image by Helayne Seidman For The Washington Post)
Have a tip we should know? tips@mediaite.com