Mika Brzezinski Condemns Romney's Support Of Axelrod Hecklers: It's 'Rude And Childish, Actually'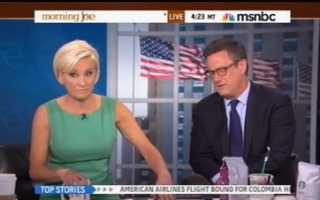 On Friday, the Morning Joe crew took a look at Mitt Romney's revealing reaction to a group of hecklers who had shown up to shout down Barack Obama's senior campaign adviser David Axelrod at a campaign event yesterday.
RELATED: David Axelrod Blasts Pro-Romney Hecklers: 'You Can't Handle The Truth!'
After showing a clip of Romney reacting to the heckling:
Most of the events I go to or many of the events I go to, there are large groups of, if you will, Obama supporters there heckling me. And at some point, you say, you know, "what's sauce for the goose is sauce for the gander." If they are going to be heckling us, why, we're not going to sit back and play by very different rules. If the President is going to have his people coming to my rallies and heckling, why, we'll show them that, you know, we conservatives have the same kind of capacity he does.
"So they sent them in," said host Mika Brzezinski. "Sent people in to scream at David Axelrod. Are you kidding me?"
"If I sent people to somebody else's rally," added Joe Scarborough, unable to contain his laughter, "I wouldn't be talking about it on TV."
"That's incredible," Brzezinski continued. "It's kind of rude and childish, actually."
Later, panelist and former Pennsylvania governor Ed Rendell offered his take on politicians who, in a sense, "give in" to hecklers. Politicians, he said, can "wuss out" by not showing up at events where there will be hecklers. "Eric Cantor," he shared, "you know, he bills himself as a young gun. And he is an awfully bright, smart guy. He backed away from an appearance at Penn when he heard that some of the Occupiers might be in the audience. Well, if I were Eric Cantor, as smart as he is, I would have taken those Occupiers and twisted them into pretzels. You know, and that's what it's all about. People hate people who try to drown out others. They hate them."
After the panel had some fun over Romney's curious use of the term "goose sauce" when trying to say that "what's good for the goose is good for the gander," Brzezinski noted that "in this climate," she wouldn't have encouraged supporters to scream at an event for a rival candidate.
"But it's done," said Scarborough. "Try to give a speech as a conservative in certain places where there's heavy union membership. And then come talk to me about being shocked and stunned and deeply saddened that Republicans would do that."
"This isn't the Dartmouth Review back in the '80s. Ok?" countered Brzezinski. "Like a bunch of college kids thinking they are being political. This could be … It's not… You know it's not cool."
"Are you all stupid or do you want to not have this conversation?" she said, following jokes by Scarborough.
"I don't think it's the worst thing in the world," he explained. "It's bad, but i wouldn't talk about it for the next 10 minutes. I'm a little more concerned about what's going on in Syria than a couple of morons with signs."
Everyone just calm down! Have a warm cup of goose sauce — it's good for everyone — and calm down!
Watch, via MSNBC:
Have a tip we should know? tips@mediaite.com