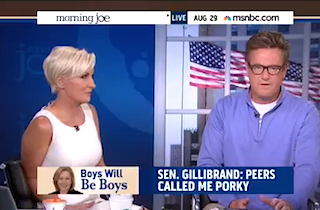 Joe Scarborough was the one who brought up Sen. Kirsten Gillibrand's accusations of sexual harassment against male Senate colleagues Friday morning, urging her to "name names" of those who allegedly squeezed her stomach and said they liked her better "chubby." But it was Mika Brzezinski who went so far as to call Gillibrand "weak" for not disclosing which senators behaved in that way.
Doing press for her upcoming book Off the Sidelines: Raise Your Voice, Change the World
, Gillibrand revealed that after she lost 50 pounds following the birth of her baby, certain male senators would come up to her and say things like, "You know, Kirsten, you're even pretty when you're fat."
RELATED: Andrea Mitchell: There Are Male Senators I 'Would Not Get on an Elevator With'
"If Kirsten Gillibrand was sexually harassed by other senators… this is so horrible what beasts these men were, and I'm sure they were," Scarborough said. "Doesn't she have a right to the constituents of these beasts? Because these men, after all, represent millions and millions of people."
"Doesn't she have a responsibility to name names?" he asked. "I think she should. These men need to be outed."
Brzezinski, recalling her own time spent as a Washington page, noted that she had called out Strom Thurmond for sexually harassing her. But today, "No one is naming names," she said. "And I think that's actually — that's weak."
"I think it's weak too," Scarborough agreed.
Watch video below, via MSNBC:
[h/t TPM]
[Photo via screengrab]
— —
>> Follow Matt Wilstein (@TheMattWilstein) on Twitter
Have a tip we should know? tips@mediaite.com