Mika Brzezinski Is Disgusted By Gingrich's Call For Occupy Protesters To 'Take A Bath'
Mika Is Disgusted By Gingrich's Call For Occupy Protesters To 'Take A Bath'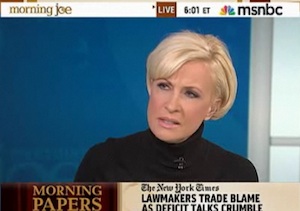 On Monday's Morning Joe, Mika Brzezinski and economist Jeffrey Sachs were both visibly repulsed by Republican frontrunner Newt Gingrich's comments that Occupy Wall Street protesters should "get a job and take a bath."
"That was about one of the most arrogant and un-self aware –and those are the only words I can use — things for any politician in this Republican field to say," Brezinski fumed.
"Absolutely disgusting," Sachs exclaimed, "No sense of any meaning in all of this. Absolutely revolting, actually, and especially when what they're protesting against is the incredible abuse of power, the criminality on Wall Street and so forth that he, yes, taking his millions of dollars, it's shocking."
RELATED: Newt Gingrich Tells Off Occupy Wall Street At GOP Debate: 'Go Get A Job After You Take A Bath'
"Someone needs a bath, and i don't think it's the people from Occupy Wall Street!" quipped Brezinski. "That's all I'm going to say. I got nothing else. I was so disgusted by that."
"The Republican Party needs to engage on the immorality of the income inequality and they would be politically smart to try to capture some of the sentiment that rails against a lot of what they should be against to," Mark Halperin opined.
"It's fair to say he's in the 1%, correct," Brzezinski added. "He's telling the 99% to take a bath and to get a job, really? I wonder how they do that right now…who is this man, who does he think he is and why is he surging in the polls?"
Watch Brzezinski lambaste Gingrich below via MSNBC:
Have a tip we should know? tips@mediaite.com