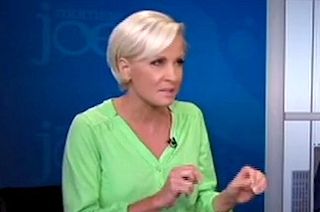 Following up on her stinging rebuke of Miley Cyrus' VMA performance, Morning Joe host Mika Brzezinski castigated MTV and the media for using phony discussions about the meaning or morality of the controversial performance as a ruse to continually replay the video.
"I think there's a couple of things going on here," Brzezinski said. "First of all, I think that she's clearly an extremely disturbed young woman. The people around her making money off her are morally bankrupt, if not worse. MTV should be ashamed of themselves. All of us in the media, we are adults and we know right from wrong. We don't need to cover this story, to put the video up and ask the question and hide behind the question so we can show the video and make money off of it. It's wrong what happened. That was disgusting. It was really bad for our children. It was way over the line and everybody should say it and no one should show it."
RELATED: Who Does Glenn Beck Blame for Miley Cyrus' Outlandish VMAs Act?
Washington Post columnist Eugene Robinson was perplexed by this.
"Seriously, does anybody think the Video Music Awards are going to be wholesome?" Robinson said. "They're not! They never were. There's always an act that tries to be the headline the next day, that tries to be the most outrageous. It was Miley Cyrus. This was so intentional. I think it's just marketing of Miley Cyrus, period."
"You should watch the whole thing," Brzezinski told the panel. "I went and looked at it after what I said yesterday, because so many people were saying I was too harsh. I didn't say enough and no one else did either."
Watch the full clip below, via MSNBC:
————
>> Follow Evan McMurry (@evanmcmurry) on Twitter
Have a tip we should know? tips@mediaite.com